Earn Commissions
$100 for each paying advertiser!
How would you like to earn commissions ($100) for each and every paying advertiser that you refer to Newport-Discovery-Guide.com?

If you like this website, and think that someone you know may benefit from advertising their business here, then why not put a few extra dollars in your pocket for your efforts?

Example of a dedicated page that can be created for an advertiser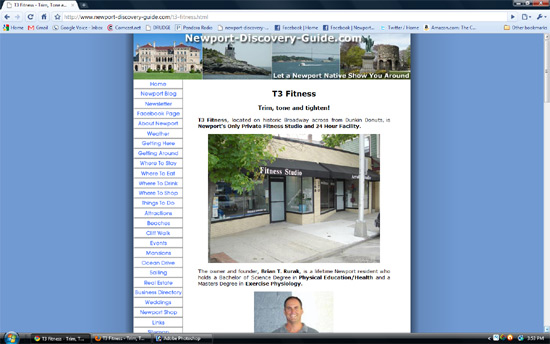 ---
How it works:
Refer someone to this site.
They become a paying advertiser.
They mention your name as the one who referred them.
You fill out an IRS W9 Form (necessary for me to cut your check).
Once I receive their payment for services and your W9 Form, I will immediately cut you a check for $100.
---

That's it. It's really that simple. There's no selling, paperwork or anything else for you to do.

Just refer someone to me (make sure they drop your name) and I'll do the rest!

And by the way, there is no limit on the amount of referral commissions you may receive! If you bring me 1 advertiser, you'll earn $100. If you bring me 10, you'll earn $1000. The sky's the limit, so start spreading the word!


---
In order to be paid for your referrals, you must fill out an IRS W9 Form.


I cannot and will not cut you a check without this form!

(Clicking on this image will open the form in a new window)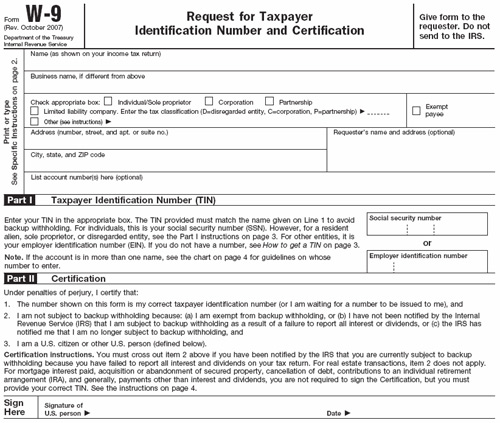 You can either fill it out on your computer, or you can print it out and fill it out by hand (black or blue pen).

Once the form is completed, you can either e-mail it to me or mail it to me directly, whichever you prefer. Contact me for more details and my e-mail or mailing address.
Read the instructions first and make sure you include the following information:
Fill out the top portion - If you don't own your own business, just check Individual/Sole Proprietor. If you do, check the appropriate box. Leave the Requester's name and address box blank. I'll fill that out.
Part I - Enter your Social Security or Taxpayer ID#
Part II - Sign and date the form
If you have any other questions or need help filling out the form, feel free to
contact me
.
---
Ready to get started? - Here's how:
1. Refer people to the site
2. Your referrals become paying advertisers and you earn commissions
3. Fill out and send me your W9 Form
4. I'll send your commission check
5.
Contact me
with any questions
---
PLEASE NOTE:
The referral commission payment you receive is a
one-time payment
when the person/business you refer becomes a paying advertiser on Newport-Discovery-Guide.com. This is
not a recurring commission payment
.
You will receive an additional $100 for each
additional paying advertiser
you refer.
Please
contact me
if you need clarification on any of this.
---
Return from Earn Commissions to Advertise With Newport Discovery Guide

Return from Earn Commissions to Newport Discovery Guide home page


New!

Comments

Have your say about what you just read! Leave me a comment in the box below.