Newport Discovery Guide Facebook Page
Check us out on the popular social networking site
I'm assuming that most people have heard of Facebook, and have and idea what it is. Just in case you haven't, it's the #1 social networking site in the world.

This site has more than 250 million active users worldwide, and 120 million of those users log on at least once a day to chat with their friends, share photos and video and promote their favorite causes.


Newport Discovery Guide's Profile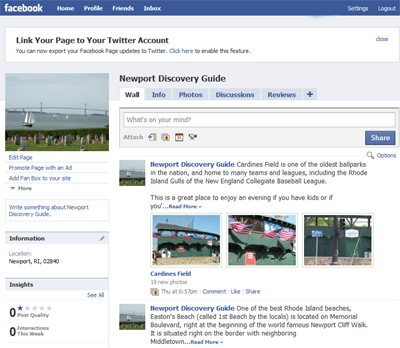 I figured Newport Discovery Guide should have a presence here for a couple of reasons:

#1 I think those millions of people would love to learn more about the "City by the Sea", and what a great city it is to visit or live in.

#2 It's a great place to view all the photos that don't make it onto the website.

I can only put so many pictures on each page of the site. For those that love to look at all of the pictures we've taken of the various Newport RI attractions, check out the photo albums by clicking on the image below.


Newport Discovery Guide Photo Albums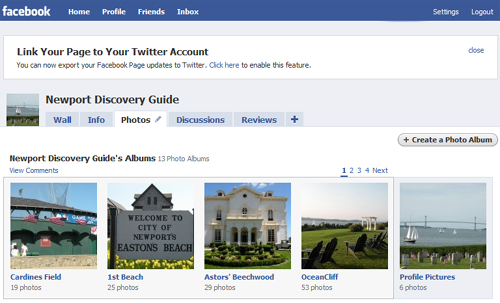 I have tons of pictures of various sites, including:
best pictures
of any location on their specific page on the website.
So from now on, I'm going to try to upload as many photo albums as I can here so
you can have access
to those pictures as well.
OceanCliff Resort Photo Album
So if you enjoy looking at pictures,
become a fan of the page
, where you'll get
plenty of regular updates
.
Go from Facebook to Newport Rhode Island Blog
Return from Facebook to Newport Discovery Guide home page