Pet-friendly Restaurants in Newport
by Alan S
(Englewood, NJ)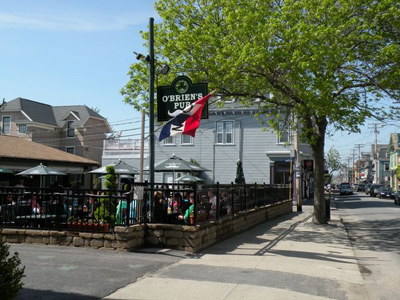 O'Brien's Pub
Question:


We're taking our 15 lb pooch with us to Newport.
Are there any outdoor upscale restaurants we can go to?
Thanks.
My response:
Hey Alan!
Some of our best restaurants and attractions are dog-friendly. As far as I know, H2O, Sardellas and Canfield House still allow dogs, as long as they're leashed.
Although it's not as upscale,
O'Brien's Pub
on Thames Street is an awesome spot that also allows dogs outside.
2 of our best attractions,
Ten Mile Ocean Drive
and
Newport Cliff Walk
also allow dogs. If you haven't seen them before, you should definitely check them out.
And finally, this website is a great resource for all kinds of pet-friendly locations:
www.dogfriendly.com/server/travel/uscities/guides/us/cities/usonlinecityRINewport.shtml
I hope you and your pooch enjoy your trip!
--Paul