Bannisters Wharf
The center of all the action in Newport since 1742!
Bannisters Wharf was colonial Newport's commercial lifeline. Today, it is still a lifeline for thousands who come to visit the "City by the Sea" every year.
Whether you're looking for waterfront accommodations, a great meal, lively nightlife, a unique shopping experience or just somewhere to dock your boat, this is the place.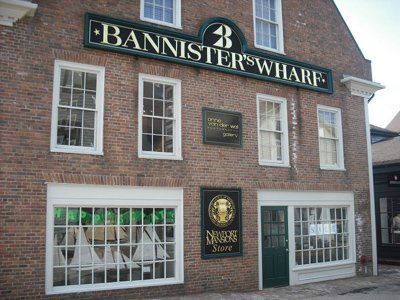 Restaurant
Shops
Accommodations
Marina/Cruises


Clarke Cooke House
Bannisters Wharf is now home to the Clarke Cooke House (favorite local spot of Ted Turner and Dennis Conner), and many other shops and services.

The Clarke Cooke House has it all. Great sushi at The Candy Store, sophisticated dining on The Porch and the most popular discotheque in Newport in the basement at The Boom Boom Room.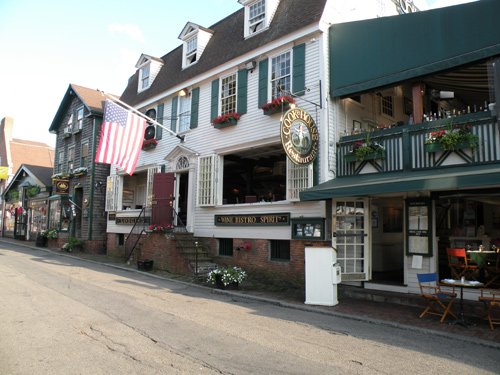 Shops
Bannisters Wharf has an incredible variety of unique shops for you to explore. In between all of the shopping, take a break and enjoy an ice cream, coffee or espresso by the waterfront!

Shops you'll find here:
Ben & Jerry's
Onne van der Wal Photography
The Black Dog General Store
Didi Suydam Contemporary (Jewelry and Fine Art)
Mandarine Boutique
The Newport Mansion Store
The Royal Warrant (English clothing)
Oska Newport (European clothing)
Art on the Wharf
Brahmin (leather products)
Newport Breeze (resort clothing)
Murphy & Nye (Yachting clothes, shoes and accessories)
Tradewinds Sunglass Company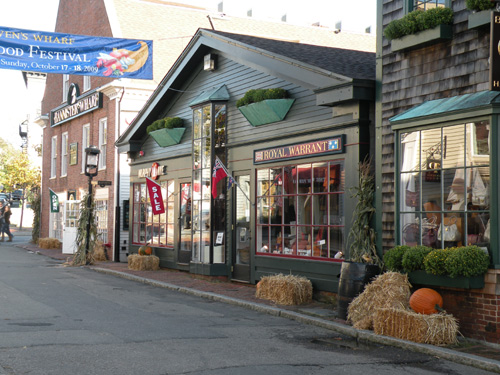 The Coffee Grinder (shown below) is a fabulous place to enjoy the harbor view. Relax on an adirondack chair with an authentic Italian espresso and a muffin or sandwich.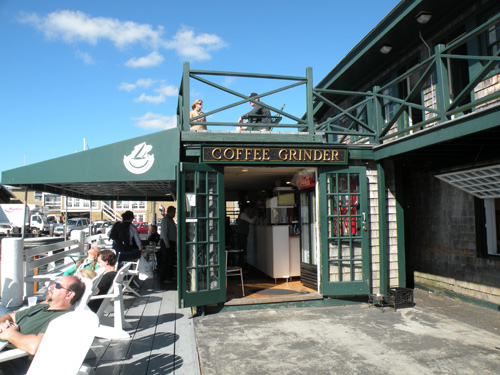 Accommodations
If you don't want to be far from your boat while in town, there are accommodations available here as well.

Bannisters Wharf has four guestrooms. They've each got two double beds, and they open onto a common deck overlooking Newport Harbor.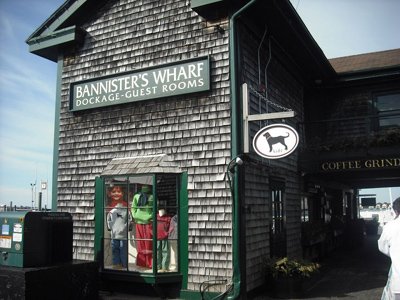 Room Rates

Spring/Fall

Rooms $125 - $250 per night plus tax
Suites $175 - $275 per night plus tax

Summer

Rooms $215 - $295 per night plus tax Suites $215 - $340 per night plus tax

Winter
Rooms $75 - $150 per night plus tax
Suites $100 - $150 per night plus tax

For Reservations & Information call 401-846-4500


Marina/Cruises
The deep water marina here has a 280 foot fixed pier with 30 boat slips. It has floating docks, and is open to sailboats and power boats of all sizes.

The marina is located in the center of Newport Harbor. The hours of operation are 8am to 8pm during the season and 9am to 5pm during the off-season.

You may contact the Dockmaster, Jim McCarthy, by radio (VHF Channel 9) or telephone (401-846-4500).


Cruises depart daily from Bannisters Wharf from May through October. You can sail aboard the Madeleine or the Rum Runner II.

The Madeleine is a 72 foot schooner that carries up to 49 passengers. She was named after the America's Cup Defender of 1876.

The Rum Runner II offers a thrilling ride through the harbor on a newly restored Elco Motor Yacht. It was built for two New Jersey mobsters during prohibition, helping them to evade the Coast Guard and get their supply ashore.


Clear blue skies - the perfect day for a sail aboard the Madeleine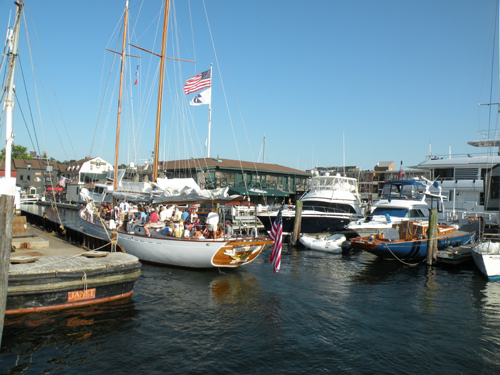 You could probably spend a couple of days here, enjoying the accommodations, shops and different levels of the Clarke Cooke House, before even venturing out into the rest of Newport!

This is another location that should definitely be on your to do list while you're here.

Return from Bannisters Wharf to Newport Rhode Island Shopping

Return from Bannisters Wharf to Newport Discovery Guide home page