Newport Rhode Island Shopping
A Shopper's Paradise in the "City by the Sea"
Newport Rhode Island shopping is one of the many reasons the "City by the Sea" is one of the world's best vacation destinations.

In addition to its fascinating history, breathtaking scenery and fabulous restaurants, Newport RI is also well known as a shopper's paradise.

Check out the list below to learn more about the most popular shopping districts.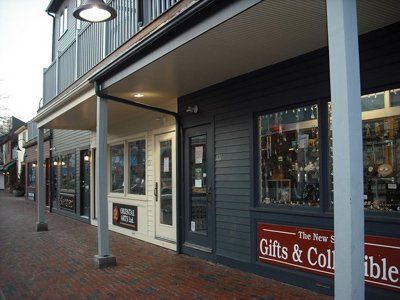 Thames Street
Long Wharf Mall
Brick Market Place
Bowen's Wharf
Bannister's Wharf
Spring Street
Bellevue Avenue
Broadway
Newport Mall

If you're looking for clothing, jewelry, artwork, antiques, unique gifts or just souvenirs to share with family and friends, downtown Newport's historic waterfront shopping district will not disappoint.

You could (and we're sure you will) spend entire days just walking around Newport's cobblestone shopping wharves enjoying the quality and diversity of the many:
Art galleries
Antique shops
Boutique shops
Resort clothing shops
Sailing shops
Jewelry shops
Unusual gift shops
And many, many more.
Check out the map below to see where to begin your Newport Rhode Island shopping adventure. Then browse the sections below for more information on each.
Thames Street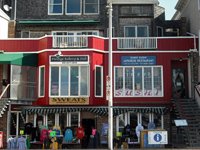 Along with the many historic colonial homes here, Thames Street is home to countless shops, restaurants and bars. Beginning at Farewell Street and ending at Morton Avenue, explore unique Newport shops such as Thames Street Glass, Accidental Artist, Muse, Music Box and Aardvark Antiques.
More about Thames Street

Long Wharf Mall
Long Wharf Mall is located between Thames Street and America's Cup Avenue. It is home to a great restaurant, Panera Bread, and includes other stores such as Only in Rhode Island, Joseph A. Bank Clothiers, Yankee Candle and Goodies by the Sea. There are many other unique shops here also.
More about Long Wharf Mall

Brick Market Place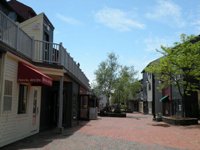 Brick Market Place might be where you want to spend most of your vacation if you love to shop. Situated between Thames Street and America's Cup Avenue, this combination residence/shopping mall is home to shops such as Ireland Calls, Tourist Trap, Pleasant Surprise, The Body Shop and Sole Desire.
More about Brick Market Place

Bowen's Wharf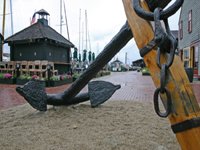 Established in 1760, Bowen's Wharf is home to over 20 retail shops. Here you'll find clothing, jewelry, home accessories and unique gifts at locations such as: Michael Hayes, The Schrimshander, Kimberly Pucci, The Sail Loft and Terra Zapato.

More about Bowen's Wharf

Bannister's Wharf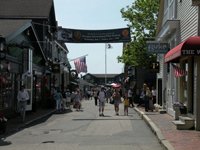 Once the commercial lifeline of colonial Newport, Bannister's Wharf is now home to the Clarke Cooke House and many great shops. Enjoy an ice cream at Ben & Jerry's, then explore The Newport Mansions Store, Mandarine Boutique, Art on the Wharf and Newport Breeze. Newport Rhode Island shopping at its finest.
More about Bannister's Wharf

Spring Street
In between Bellevue Avenue and Thames Street, Spring Street is also home to many fine and unique shops. You'll find antique ceramics at the Drawing Room, antique lighting at Renaissance Antiques, assorted jewelry at JH Breakell & Co. and bridal finery at Edna Mae's Millinery & Bridal Studio.



Bellevue Avenue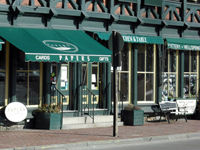 Along with the historic sites and Newport Mansions lining Bellevue Avenue, there are many fine shops to explore as well. Visit Michael Hayes, Talbots, Wellspring and The Linen Shop just to name a few. Must see and do: Breakfast at Annie's and Doris Duke's Rough Point mansion.

More about Bellevue Avenue

Broadway
If you've been to Newport before, Broadway probably wasn't on your list of places to visit. What a difference a few years can make! In addition to its many fine restaurants, Broadway is now home to many boutique shops such as: D Kelley Fine Used Books, Newport Hobby House, Anchor Steam Tattoo Gallery, and the Good Shepard Gift Shop.



Newport Mall
The Newport Mall is on the outskirts of the city, and is one location that isn't really within walking distance. It is home to Wal-Mart, Super Stop & Shop, West Marine, Old Navy and T.J. Maxx.

After you've had your fill of Newport Rhode Island shopping, you may be hungry and want to check out some Newport Rhode Island Restaurants.


Return from Newport Rhode Island Shopping to Newport Discovery Guide home page