The Breakers, The Elms, Marble House and Rosecliff offer tours in different languages
The Breakers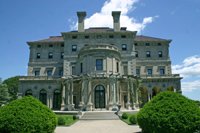 The Breakers Mansion is my favorite of all the Newport Rhode Island mansions. Designed by Richard Morris Hunt for Cornelius Vanderbilt II, President and Chairman of the New York Central Railroad. Open daily, except on Thanksgiving and Christmas.
More about The Breakers



The Elms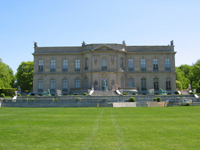 The Elms mansion was the summer residence of Mr. and Mrs. Edward Julius Berwind of Philadelphia and New York. The Elms was built in 1901 for approximately $1.4 million. It was modeled after the French chateau d'Asnieres outside Paris. Beautiful terraces, sunken garden and Venetian paintings.
More about The Elms


Marble House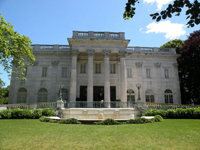 This Vanderbilt mansion used 500,000 cubic feet of marble in its construction. The marble accounted for more than half of the cost of the home! It was the "Summer cottage" of Mr. and Mrs. William K. Vanderbilt. You can see the Chinese Tea House on its back lawn from the Cliff Walk.
More about Marble House


Rosecliff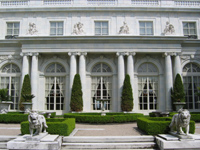 Completed in 1902 (for 2.5 million dollars), Rosecliff was home to Nevada silver heiress Theresa Fair Oelrichs. You may recognize it from films such as The Great Gatsby, True Lies (the ballroom dance scene was filmed here) and Amistad. This is a great location to hold a wedding reception or corporate event.
More about Rosecliff



Rough Point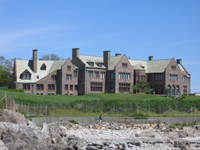 Originally built by Frederick W. Vanderbilt, Rough Point is more well known as the home of tobacco heiress Doris Duke (Duke University). Duke was responsible for a great deal of Newport's architectural preservation by founding the Newport Restoration Foundation, which runs the property today.
More about Rough Point


Beechwood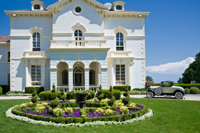 Beechwood mansion was the epicenter of American "Society" during the late 19th century. Caroline Astor (mother of John Jacob Astor, IV, who died on the Titanic) spent her summers here for 25 years, and held many lavish parties. Purchased by Oracle billionaire Larry Ellison in 2010. More about Beechwood Mansion



Ochre Court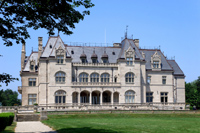 The second largest of the Newport mansions. Summer home of banker and developer, Ogden Goelet. Given as a gift by their son, Robert, to the Religious Sisters of Mercy in 1947. Originally housed the entire Salve Regina University, it now houses the school's administrative offices.
More about Ochre Court



Isaac Bell House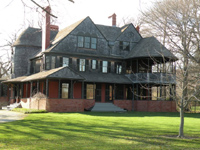 As the name implies, this was the home of Isaac Bell, a wealthy cotton broker and investor. There's an interesting mix of styles in this shingled structure. English, European, Colonial American and Japanese all blend together. One of many properties owned by the Preservation Society of Newport County.




Chepstow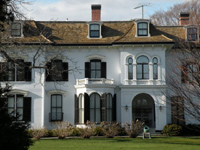 The summer home of Edmund Schermerhorn, Chepstow was built in 1860 by Newport architect George Champlin Mason. Bought by Mrs. Emily Morris Gallatin in 1911, it still contains many furnishings and documents from the Morris family. This property requires advance reservations for tours.




Hunter House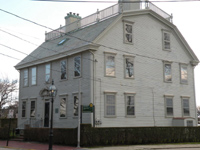 This colonial home was owned by both Jonathon Nichols, Jr. (wealthy merchant) and Colonel Joseph Wanton, Jr. (Deputy Governor of Rhode Island). It was built between 1748 and 1754. Later owned by William Hunter (U.S. Senator). Now one of many National Historic Landmarks in Newport.




Newport Mansions Map
View Newport RI Mansions in a larger map
Photo Gallery
Click here to check out the Mansions Photo Gallery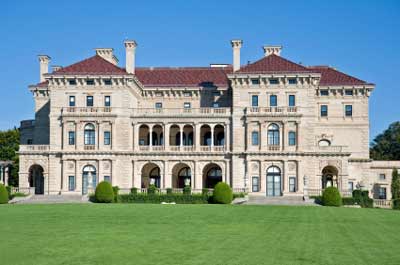 As you can see, there are a variety of Newport mansions to enjoy during your visit. Some are colossal, opulent palaces, and others are smaller, more modest homes.

You are sure to learn a great deal about "America's 1st Resort", the awe-inspiring Newport mansions and the people who played here during America's Gilded Age. Once you do learn a little about them, feel free to take our Newport Mansions Quiz to test your knowledge!

Enjoy!

Return to Things to do in Newport Rhode Island

Return to Newport Discovery Guide home page