International Tennis Hall of Fame
Explore its rich history in historic Newport Rhode Island
The International Tennis Hall of Fame is located on the site of the Newport Casino, the
birthplace of American tournament tennis in 1881. This is a cool place to visit, even if you're not very interested in tennis (like me).

It now hosts the Tennis Hall of Fame induction ceremony, an incredible museum, summer tennis tournaments, and various corporate events and weddings throughout the year.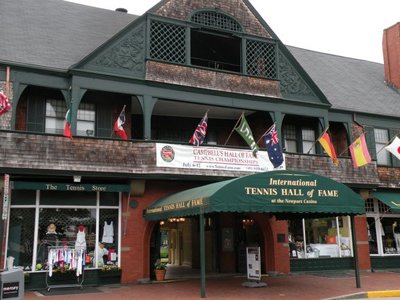 History
Museum
Tournaments/Induction Ceremony
Events/Weddings
Tours
Play/Instruction

The courts are the nation's oldest grass courts continuously used. They are also the only competition grass courts that are open to the public to play on. You will need a reservation though.


Want to play here? Just call and make a reservation!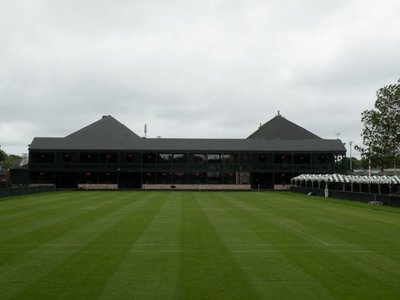 ---
History
First U.S. National Championships held here in 1881
Hall of Fame founded by James Van Alen in 1954
Officially sanctioned by the USTA in 1954
First induction ceremony in 1955
Officially recognized by the International Tennis Federation in 1986
Newport Casino designated a National Historic Landmark in 1987
$7.5 million renovation completed in 1997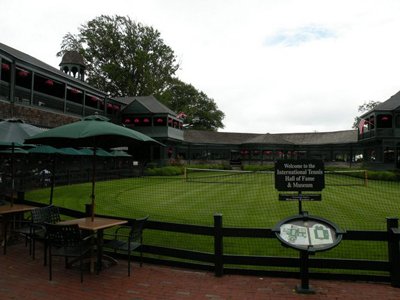 ---
Museum
The Hall of Fame Museum is very unique. I think you'll enjoy the combination of entertaining interactive exhibits and the fascinating architecture of the building.

You'll see plaques, videos and other memorabilia highlighting the sport's greatest players, each set up in rooms that were part of the old Newport Casino building.

The museum contains over 15,000 objects in its collection.
---
Tournaments/Induction Ceremony
Newport RI is home to the:


2009 Campbell's Hall of Fame Tennis Championships
, held July 6-12
This tournament is the only North American professional tournament held on a grass court, and features
32 of the world's top players
. The victor will take home $500,000 and the Van Alen Cup.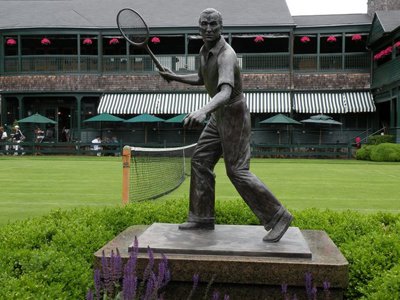 2009 Hall of Fame Induction Ceremony
on Saturday, July 11
Monica Seles
will be inducted this year (which makes me feel old).
2009 Hall of Fame Champions Cup
held August 20-23
This tournament will feature many great Hall of Famers, including
Jim Courier, Mats Wilander and Pat Cash
.
---
Events/Weddings
This location is also available for your next corporate event, family reunion or wedding.


Have your ceremony or reception overlooking the courts!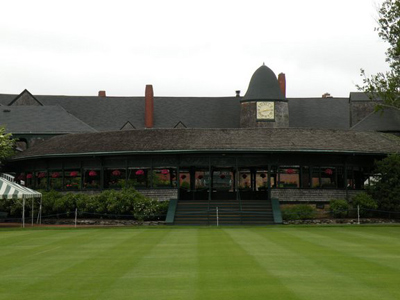 This is a perfect location to host a cocktail party for a few hundred of your closest friends outside on the horseshoe piazza. There is also a function room upstairs that can comfortably hold about 70 people for a sit-down dinner.


Horshoe Piazza - Great spot for a cocktail party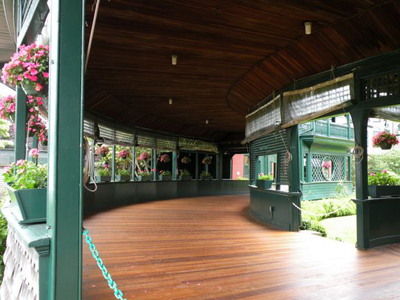 ---
Tours
Hours for touring the museum are 9:30am to 5:00pm daily.


Tennis Hall of Fame Gift Shop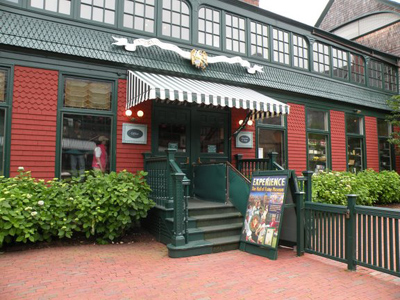 Members and children under 5 - free
Children 16 and under - $5
Seniors, Military and those with college ID - $8
Adults - $10
Families - $25
---
Play Here/Instruction
The courts here are open to the public from May through September. You can choose from the 13 grass courts, 1 clay court and 3 indoor hard courts.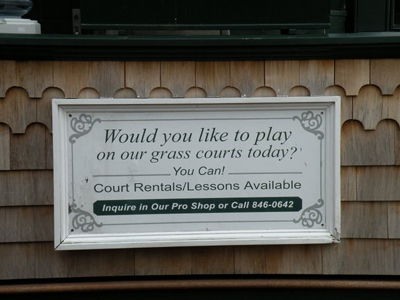 You can make reservations to play here or join one of the instructional programs by calling 401-846-0642.
---
International Tennis Hall of Fame
194 Bellevue Avenue
Newport, Rhode Island 02840
800-457-1144


Return from Tennis Hall of Fame to Things to do in Newport

Return from Tennis Hall of Fame to Newport Discovery Guide home page