Newport Rhode Island Restaurants
Dine on the waterfont in style!
What's so great about Newport Rhode Island Restaurants?
Is it their historic charm, stunning waterfront views, mouth-watering food or extensive wine lists? How about all of the above!
Newport restaurants are known throughout the country and even the world for all of these attributes. If you haven't yet had the pleasure of dining in one of our many award-winning establishments, now is the time.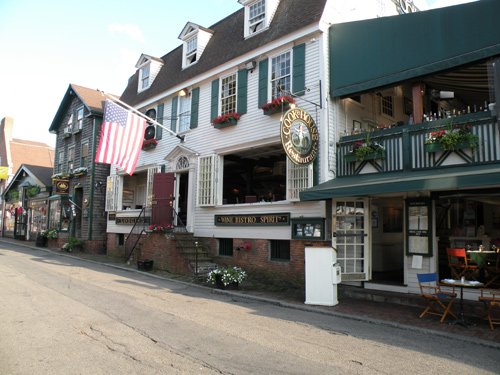 I've been extremely lucky to have grown up in a city where it's the norm to enjoy delectable meals at extraordinary restaurants.

When you've experienced something wonderful, the right thing to do is share it with someone else. As a fortunate Newport native, it is my duty to share with you what I've enjoyed my whole life.
Explore the links below to learn more about my favorite places to eat in the "City by the Sea".

And if you already had some great dining experiences, click on the icon below to tell us about your favorite Newport Rhode Island restaurants.




22 Bowen's Wine Bar and Grille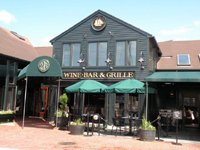 Question: What could be better than indulging in a great steak, with a fine bottle of wine, at a beautiful waterfront restaurant in historic Newport Rhode Island?
Answer: Nothing! So what are you waiting for?

More about 22 Bowen's


Atlantic Beach Club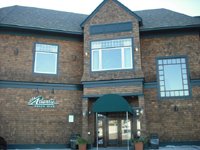 If you're going to be in Newport during the summer, then you must put the Atlantic Beach Club on your To Do list. Enjoy a day of relaxing on the beach, beach volleyball, live music, great food and drinks and even hold your wedding reception here! One of my favorite Newport Rhode Island restaurants.
More about Atlantic Beach Club


The Black Pearl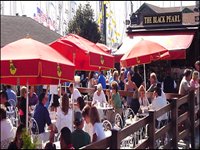 The Black Pearl restaurant is one of the great waterfront dining experiences in the "City by the Sea". Check out the Waterside Patio and raw bar on a sunny afternoon!
And they've got the best New England Clam Chowder in town!

More about the Black Pearl


Brick Alley Pub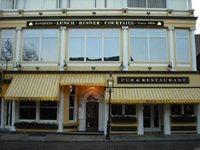 The Brick Alley Pub is a Newport landmark. Located in the heart of downtown, this restaurant specializes in steaks, seafood and pasta. The nachos, clam chowder and burgers ain't too bad either. "The Brick" should definitely be on your list of places to eat.

More about Brick Alley Pub


Castle Hill Inn & Resort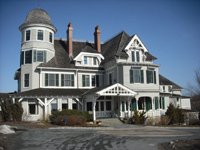 Fine dining at it's finest. Enjoy fantastic food and breathtaking ocean views at the former summer home of Harvard marine biologist Alexander Agassiz. This is also a great spot for a wedding and reception, or to just enjoy the view and a few drinks.

More about Castle Hill


Clarke Cooke House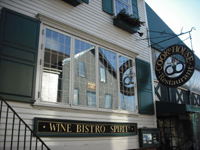 Located on Bannister's Wharf in downtown Newport, there's something here for everyone. The Porch, The Candy Store, The SkyBar, The Midway Bar, The Bistro and The Boom Boom Room. Come experience the many layers of this renowned Newport hot-spot.

More about Clarke Cooke House


Flo's Clam Shack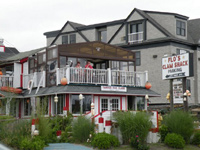 One of my favorite Newport Rhode Island restaurants. After a relaxing day at Newport's 1st Beach, why not cross the street and check out Flo's Clam Shack? A trip to Newport just isn't complete unless you've sampled their famous clam cakes, chowda, fried clams, stuffed quahogs and lobster rolls!
More about Flo's Clam Shack


Guilty Pleasures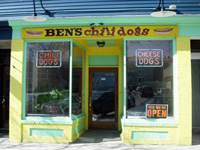 Although we don't always like to admit it, we all have guilty pleasures. Even though Newport is home to many amazing waterfront restaurants, I must admit that sometimes I'd rather gorge myself at Ben's Chili Dogs, Nikolas Pizza or at the Newport Creamery.
More about Guilty Pleasures


Middletown Restaurants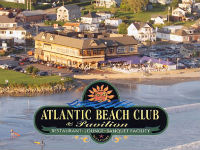 Not all of the best restaurants are in Newport! Neighboring Middletown has some great spots too, including Tito's Cantina Mexican Grille, Anthony's Seafood and Coddington Brewing Company. Some are just steps from 1st Beach over the Newport/Middletown line.

More about Middletown Restaurants


O'Brien's Pub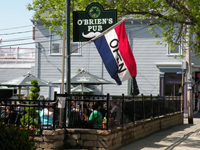 Located right in the middle of all the action on lower Thames Street. O'Brien's Pub has one of the best outdoor patios in all of Newport (pet-friendly too). This is a great spot for people-watching as you enjoy your lunch and live entertainment during the summer months. The place to be for the St. Patrick's Day Parade every March. More about O'Brien's Pub



The Pier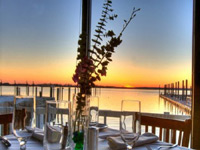 If you love great food, live entertainment and stunning views of Newport Harbor, you should get down to The Pier Restaurant on Howard Wharf, just off of Lower Thames Street. I can't think of a better spot to have a drink with friends while listening to some relaxing reggae music on the waterfront patio.
More about The Pier



Red Parrot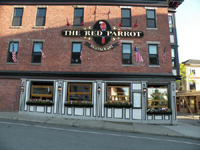 One of the best Newport Rhode Island restaurants on Lower Thames. The Red Parrot is located on the corner of Thames Street and Memorial Boulevard, in the heart of downtown. It has bars on 2 of its 3 floors, and one of the most extensive menus in the city. If you're a martini drinker, this place is for you!
More about Red Parrot



Sardella's Italian Restaurant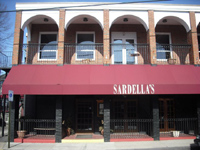 Experience both Northern and Southern Italian cuisine at Newport's oldest full service Italian restaurant. Perfect for both an intimate dinner or gathering with a large group of family and friends. Located near all the action on Bellevue Avenue and Thames Street.

More about Sardella's Restaurant


White Horse Tavern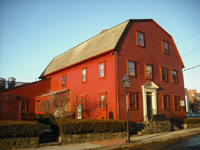 Voted both "Most Romantic Restaurant" and "Best Place to Impress a Visitor", America's oldest tavern will take you back to Colonial Newport's golden age as you enjoy a fine meal and drink. Dress is business casual (men should wear a jacket).

More about White Horse Tavern


Return from Newport Rhode Island Restaurants to Newport Discovery Guide home page
Go from Newport Rhode Island Restaurants to Things to do in Newport