Newport Rhode Island Restaurants

***JAN 2012 UPDATE: Due to some issues between the property owner and the Pier management, the restaurant has been closed. :(
Hopefully they can work it out...this is such a great restaurant in one of Newport's best locations!
If they do, we'll let you know.
If you asked me which Newport Rhode Island restaurants you should visit while in town, The Pier is definitely at the top of the list. What more could you ask for than great food, drinks, live music and sunsets overlooking Newport Harbor?

The Pier is located downtown, just off of historic Thames Street on Howard Wharf. So if you're in the area shopping or sightseeing, stroll down the wharf and treat yourself to a superb dining experience.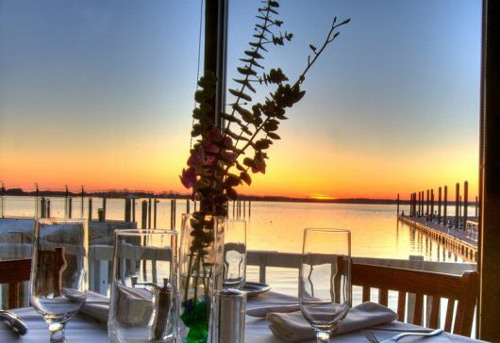 Menus
Functions/Events
Hours of Operation
Live Entertainment
Contact
Directions/Map

The Pier recently re-opened under new management (it had been closed for a number of years) and with award-winning Chef Kevin M. Gaudreau.

A couple of friends have taken over this historic Newport restaurant (General Manager Charlie Holder and Bar Manager Jay Holder), and since they were such a big part of the success of the Atlantic Beach Club for over a decade, I'm sure they'll do great things with The Pier as well.

This was one of the first places I went for lunch when I returned to Newport this summer. I had the Grilled Chicken Panini while enjoying the cool breeze, great view of the harbor and some relaxing reggae music.

Now I can't wait to get back up there for dinner. I think the "Pier Platter" (Baked codfish, stuffed shrimp and bay scallops) is calling my name. Although the dish below doesn't look too bad either!

---
The Pier's incredible menu has few equals among the other Newport Rhode Island restaurants. With their soups, salads, appetizers, sandwiches, fresh seafood, raw bar, pasta and mouthwatering steaks, there's something here to please every palate.

Here's a sample of the many items on the lunch and dinner menus:


Lunch
New England Clam Chowder
Lobster Salad
Oysters Rockefeller
Shrimp and Lobster Spring Rolls
Grilled fish (Wild Salmon, Yellow Fin Tuna, Atlantic Swordfish, Mahi-Mahi)
Soft-shell Steamers
Fried Seafood Platter
Dinner
Baked Onion Soup Au Gratin
Calamari
Chilled Shellfish Sampler
Rhode Island Clam Boil
Flynn's Shrimp Pasta
20 oz. Cowboy Rib-eye
Baked Stuffed Lobster
Wine
The Pier has an extensive wine list as well, including the finest Champagne and Sparking Wine, Red and White Wine and many other blends and varietals.


---
Functions/Events
If you're looking for a great location for a private party or event, look no further than The Pier. Their large indoor dining and function rooms, outside waterfront patio, stunning view of the harbor and breathtaking ocean sunsets make this the perfect location!

The Pier can accommodate groups for bridal and baby showers, birthday and retirement parties, engagement and holiday parties and just about any other event. They'll even host a clambake for you, or cater a private event at your home!


to inquire about hosting your special event at The Pier.
---
Hours of Operation
Lunch: 11:00-4:30
Dinner: 4:30-11:00
Bar: Open till 1am
---
Live Entertainment
The Pier hosts live entertainment Thursday through Sunday night. I can't think of too many better spots to watch the sunset and have a few cocktails with friends.

And speaking of friends, be sure to check out Mark Gordon of Rock-A-Shop Sound doing the Sunset Reggae Session here on Tuesday nights during the summer!


Pull up in style and enjoy the show!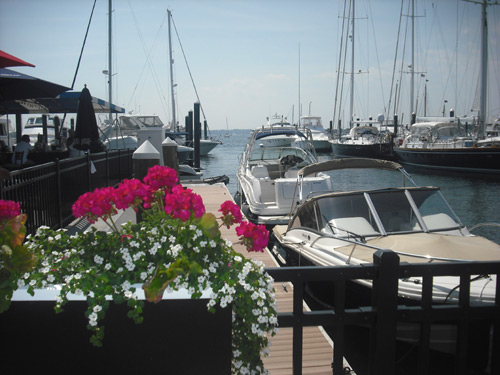 ---
If you've got questions about the menu, an upcoming event or tonight's entertainment, feel free to ask.

You can also inquire about hosting an event here or having one catered at your location.


Newport Rhode Island Restaurants
The Pier
10 Howard Wharf
Newport, RI 02840
401-847-3645
---
Directions/Map
Return from The Pier to Newport Rhode Island Restaurants

Return from The Pier to Newport Rhode Island Bars

Return from Newport Rhode Island Restaurants-The Pier to Newport Discovery Guide home page