Thames Street
The center of all the action in Newport RI
Thames Street is the nerve center of Newport's thriving downtown/waterfront area. It is lined on each side with countless bars, restaurants, shops and historic homes.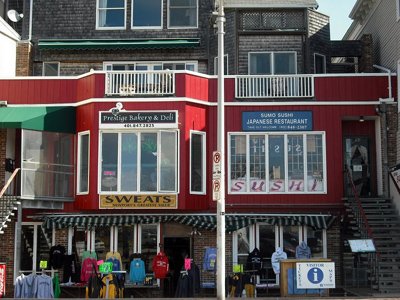 I was fortunate enough to have grown up in this area, at the very end of Thames St., in the 5th Ward (Irish) section of Newport. It was always very convenient to be within walking distance of all of this great history, fantastic food and lively nightlife.

As you make your way down this historic thoroughfare, you'll also find museums, award-winning bed and breakfasts, marinas and public access points to Newport Harbor. You can easily devote one day or an entire week to exploring everything it has to offer.
Thames St. runs approximately 1.5 miles from its beginning point (at its intersection with Farewell and Poplar Streets) to its end point (its intersection with Morton and Carroll Avenues).


If you're driving, you can get from end to end in about 5-7 minutes. That's if it's winter time with no traffic. In the summer, that same 1.5 mile drive will take you about 20 minutes.
If it's a
holiday weekend
, or if there's some event going on, it'll take you even longer. But even then you'll enjoy yourself
people watching
and taking in the many attractions as you make your way down the street!
---
***Native's Advice***
Avoid driving on Thames St. if you don't have to. Besides, walking it is so much more enjoyable. You can really take everything in this way, and you can pop in and out of the many interesting shops, fantastic restaurants and lively bars much more easily.
---
Some of our favorite restaurants on Thames:
Brick Alley Pub (Great Nachos and Sedona Burger)
Red Parrot
Salas'
Thai Cuisine at Thames Street (I love their Pad Thai)
Firehouse Pizza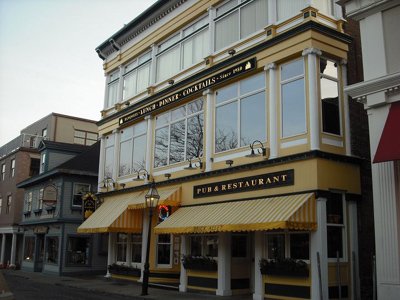 Some of our favorite bars on Thames:
One Pelham East
H2O
Rhino Bar
Sambar
The biggest attraction on Thames St. is the many
unique shops
that line both sides of the street. If you're going to be shopping in Newport, then you must visit Thames St.
You probably couldn't visit all of Newport's shops, even if that's all you did all day. But it can't hurt to try, right?
Let the shopping begin!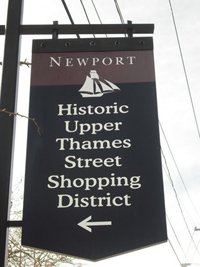 In addition to some of the well known stores such as Banana Republic and Limited, you'll enjoy a multitude of smaller, privately owned Newport shops such as:
Muse
Totally Tots
Thames Glass
Down Under Jewelry
Tropical Gangsters
Rag & Bone Art and Design
Whether you're looking for a great meal, lively nightclub or unlimited shopping, Thames St. has it all. You don't need a car or even a map. Just walk down the street and enjoy what you find!

Return from Thames Street to Newport Rhode Island Shopping

Return from Thames Street to Newport Discovery Guide home page