Newport Rhode Island Bars
Some come to sail and shop...some come to drink!
You'll definitely want to experience the Newport Rhode Island bars while you're here. After you've seen some mansions, done some shopping, and enjoyed a harborfront meal, it's time to start drinking!

Newport, to many, is just as well-known for its lively nightlife as it is for its mansions and sailing.

No matter what type of environment you're looking for, you're sure to find it in the "City by the Sea".


Featured Newport Rhode Island Bar
You can enjoy a romantic dinner and some drinks at Cafe Zelda, catch a game with the guys at the Brick Alley Pub, dance the night away at the Boom Boom Room or drink in style at the White Horse Tavern.

Newport offers a variety of drinking establishments for the diversity of the locals and tourists alike:
Sports bars
Irish pubs
Jazz and Blues clubs
Dance clubs
Upscale drinking establishments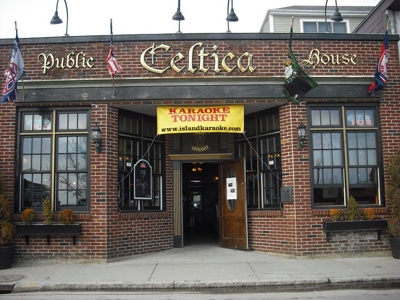 No matter where you're staying in Newport RI, there's most likely a bar within walking distance. Just exit your building, turn in any direction, and within a minute you should have a few options in front of you!


Atlantic Beach Club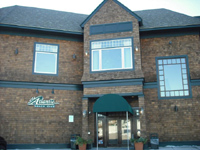 The Atlantic Beach Club is the mecca for college-aged beach-goers and drinkers. Enjoy a swim and some beach volleyball before heading up to the bar. Live music, great food and the best location on the island to spend an afternoon.

More about Atlantic Beach Club




Brick Alley Pub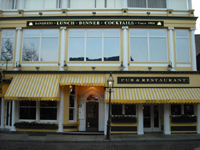 The Brick Alley Pub is a Newport landmark. Located in the heart of downtown, this restaurant specializes in steaks, seafood and pasta. The nachos, clam chowder and burgers ain't too bad either. The bar is a great spot to catch a game or make some new friends.

More about Brick Alley Pub



Celtica Irish Pub
Celtica Irish Pub is hidden away from the other Newport bars on Long Wharf, near the Newport Mariott. It's got everything a good Irish pub should have: pints of Guinness, flat-screen tv's and leather couches for watching the game. Still within walking distance of many downtown Newport attractions.
More about Celtica Irish Pub



Clarke Cook House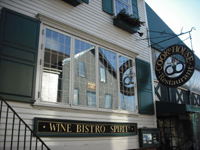 There's something here for everyone. The Porch, The Candy Store, The SkyBar, The Midway Bar, The Bistro and The Boom Boom Room. Come experience the many layers of this renowned Newport hot-spot.

More about Clarke Cooke House





Coffee Shops
If you've been partying every night at various Newport Rhode Island bars, you might actually need to take a break for a night or two. There are some great coffee shops around town that you'll enjoy while you're recovering. If you're a true warrior and don't need any nights off, these cafes may help you in the mornings.
More about Newport Coffee Shops




Jimmy's Saloon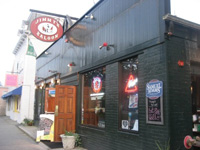 Jimmy's Saloon is a favorite spot for locals. It's just a few blocks from both 1st Beach and Bellevue Avenue. They've got 11 TVs for your sports viewing pleasure, live music on Fridays, Karaoke on Saturdays, pool tables, pinball and Miss Bev's signature chili!

More about Jimmy's Saloon




O'Brien's Pub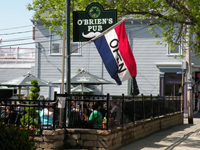 Located right in the middle of all the action on lower Thames Street. O'Brien's Pub has one of the best outdoor patios in all of Newport (pet-friendly too). This is a great spot for people-watching as you enjoy your lunch and live entertainment during the summer months. The place to be for the St. Patrick's Day Parade every March. More about O'Brien's Pub



The Pier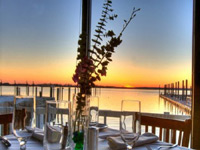 If you love great food, live entertainment and stunning views of Newport Harbor, you should get down to The Pier Restaurant on Howard Wharf, just off of Lower Thames Street. I can't think of a better spot to have a drink with friends while listening to some relaxing reggae music on the waterfront patio.
More about The Pier



Red Parrot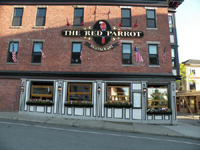 One of the best Newport Rhode Island bars on Lower Thames. The Red Parrot is located on the corner of Thames Street and Memorial Boulevard, in the heart of downtown. It has bars on 2 of its 3 floors, and one of the most extensive menus in the city. If you're a martini drinker, this place is for you!
More about Red Parrot




White Horse Tavern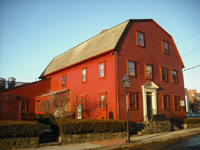 Voted both "Most Romantic Restaurant" and "Best Place to Impress a Visitor", America's oldest tavern will take you back to Colonial Newport's golden age as you enjoy a fine meal and drink. Dress is business casual (men should wear a jacket).

More about White Horse Tavern




Return from Newport Rhode Island Bars to Newport Discovery Guide home page

Go from Newport Rhode Island Bars to Newport Rhode Island Restaurants