Newport Rhode Island BarsThe Cafe
The Cafe is one of my favorite Newport Rhode Island bars, for a number of reasons. It's a
great spot to watch a game, host a party or event, shoot some pool or just have a few cocktails with friends in the newly remodeled lounge area.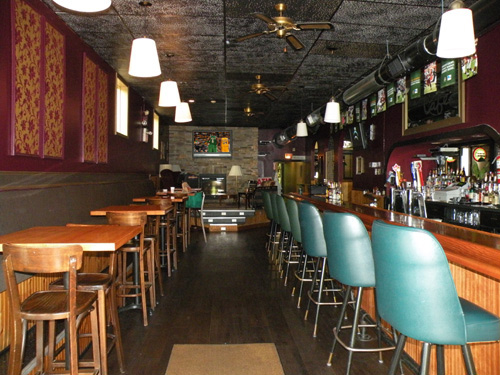 Located at 200 Broadway (at the intersection of Broadway, Gould Street and Equality Park West), this historic site was once home to one of Newport's oldest ice cream parlors and later, one of my favorite places to eat pizza as a kid, the Chicago Dough Factory.
In addition to the comfortable atmosphere, friendly bartenders and new bar menu, there are 4 pool tables to choose from, a dart board and you can even download your favorite music on their internet jukebox.
In front of the fireplace is the best spot in the house during the winter months. Order a pitcher and some wings off of the new menu and enjoy the game on the 60" flat-screen TV!
---
The Cafe serves hearty, home-cooked food and daily dinner specials.

I haven't tried everything on the menu yet, but so far the Clam Cakes, Irish Nachos (fried sliced potatoes layered with cheese, chili and fresh salsa, topped with sour cream, jalapeno and guacamole) and New England Clam Chowder in a bread bowl are my favorite.


Click on the icon below to view the menu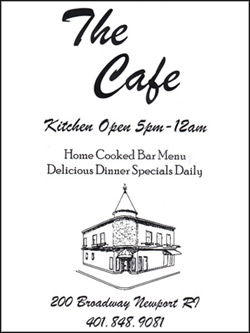 I'm not the only one who loves the food. Everyone I've talked to is raving about the quality of the food and the size of the menu.

The following quote was taken from The Cafe's Facebook fan page:

"Yum, yum, yum!!!!!! The food is delicious! You can really tell the difference between a cook and a chef! It is the work of a chef and is scrumptious! I can not wait to go again!"

I concur. The food is amazing.

Stop by The Cafe for some great food, drinks and a comfortable, friendly atmosphere.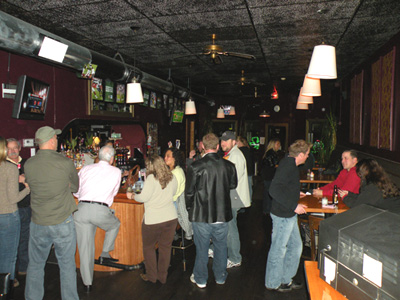 Newport Rhode Island Bars
The Cafe
200 Broadway
Newport, RI 02840
401-848-9081
Hours: 5:00 pm - 1:00 am
Return from The Cafe to Newport Rhode Island Bars
Return from The Cafe to Newport Discovery Guide home page