Celtica Irish Pub
Sustenance - Merriment - Cheer
Celtica Irish Pub
95 Long Wharf
Newport, RI 02840
401-847-4770

Celtica Public House, located right on Long Wharf across from Newport Harbor, is a great location for you to enjoy a pint of Guinness while you get in touch with your Irish roots!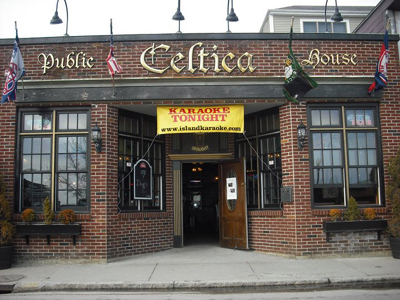 This is a really cool place. It's got nice leather couches and flat-screen plasma televisions to watch games on. They also hold monthly traditional Irish music sessions, and on Fridays, they have a complimentary buffet from 5-7pm.

Although the menu isn't too extensive, the food is good and there are some great selections:
New England Clam Chowder
Crab Cakes
Stuffed Quahogs
Lobster Rolls
Panini Grilled Sandwiches
Hot Dogs
Chicken Wings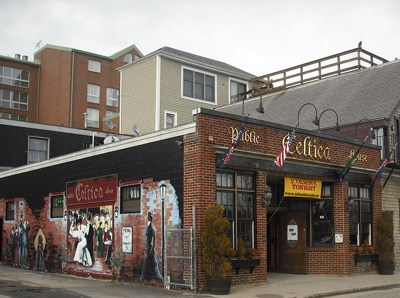 And of course, they've got a great selection of beers, ales and lagers, such as:
Bass
Guinness
Harp
Killian's
Newport Storm
Stella Artais
Smithwick's
If you happen to be staying at the
Marriott
or the
Hyatt
, then this location should be first on your list when visiting Newport's bar scene. It is just across the Goat Island causeway from the Hyatt, and just steps from the Mariott.
If you've just finished an afternoon of shopping at
Brick Market Place
or
Long Wharf Mall,
then just cross America's Cup Avenue, pass the Gap and the pub is on your right.
Of the many Newport Rhode Island bars, this one stands out from the rest. Its physical distance from the rest of the city's bars and its
unique cast of characters
will ensure you won't forget it.
Return from Celtica Irish Pub to Newport Rhode Island Bars
Return from Celtica. Irish Pub to Newport Discovery Guide home page