Newport Restaurants
Flo's Clam Shack
One of my favorite Newport restaurants, Flo's Clam Shack has been pleasing palates with great seafood since 1936.

If you're in the mood for awesome clamcakes, a cold beverage and a nice view of 1st Beach, then look no further than this Newport institution.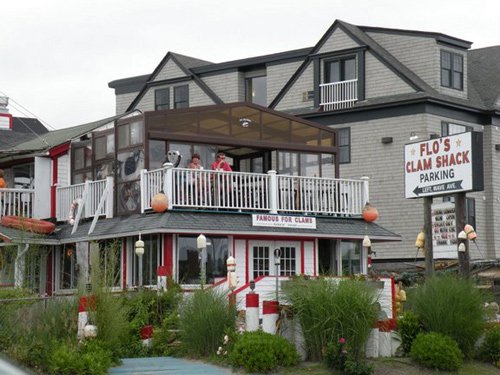 Flo's is located at 4 Wave Avenue (just over the border in Middletown), directly across the street from 1st Beach and the Atlantic Beach Club.

The victim of many hurricanes over the years, Flo's has moved a few times, but has been at this ideal location since 1992.
If you're driving here, there's parking in the back off of Wave Avenue. Just follow the path, and your tastebuds will be in heaven soon enough!

The menu covers just about everything you'd want from a great clam shack. Some of the highlights:
Flo's World Famous Clamcakes
Chicken Fingers and Fries for kids
Flo's Famous Fried Clams
Topside Raw Bar
Flo's Fiery Stuffed Quahogs (w/chopped jalapenos!) (w/chopped jalapenos!)
Red, White or Clear Chowda
Flo's Fisherman Platter
and the No-Nonsense Lobsta Roll
---
***NATIVE ADVICE***
Before I forget, I need to tell you that this is one of the Newport restaurants that doesn't take credit cards, so be sure to bring cash!

It would be devastating to get there, smell the food and place your order only to find out that you don't have any cash. Don't let that happen to you!
---
You have the choice of sitting inside, outside, or upstairs on the deck overlooking 1st Beach.

Once you place your order at the counter, they'll give you a rock with a number on it. Make sure you hang onto it and listen for your number to be called.
The decor and ambiance inside are really cool, but it's also nice to sit outside and enjoy the cool ocean breeze. You can't really go wrong either way.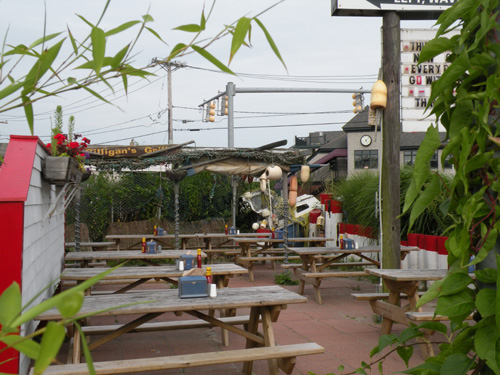 On my most recent visit, I got the food to go. Although it's nicer to eat there, once I bit into my clam cakes, I didn't really care where I was.
I was in heaven already!


Fish, clam cakes, fries and cole slaw...yummm!!!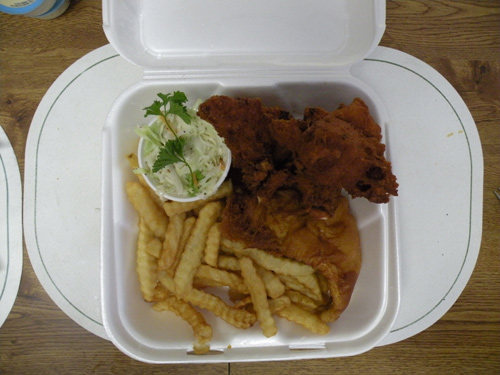 One of the most popular Newport Rhode Island restaurants, Flo's Clam Shack has won many awards from various publications, including:
Best Fried Clams (1997)
Best Clam Cakes (1998-2000)
Best Take-Out (2004)
Best Stuffies (2003, 2007)
Best Raw Bar (2006, 2007)
Hours
During the season, Flo's is open every day from 11am to 9pm, and till 10pm on Friday and Saturday
Thursday through Sunday from March till Memorial Day
Thursday through Sunday from Labor Day through New Years
Closed from New Years until March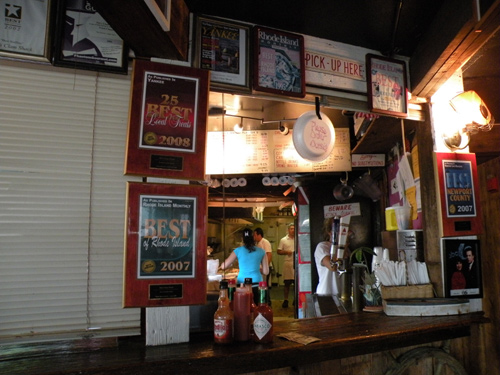 If you're looking for one of the best Newport RI restaurants with perfect ambiance and great service, look no further than Flo's Clam Shack.


Flo's Clam Shack
4 Wave Avenue
Middletown, RI 02842
401-847-8141
Return from Newport Restaurants Flo's to Newport Rhode Island Restaurants

Return from Newport Restaurants Flo's to Newport Discovery Guide home page