Guilty Pleasures
Some of my favorite spots to indulge
We all have guilty pleasures, right?.....
Right?

I know I'm not the only one.

Anyway, Newport has plenty of great spots to indulge. I'll just list a few of my favorites here now, and I'm sure I'll have to add to the list as time goes on.
Nikolas Pizza on Memorial Boulevard West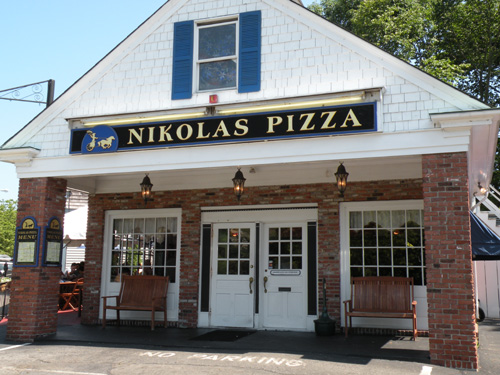 ---
Nikolas Pizza
38 Memorial Blvd West
401-849-6611

Of all the amazing Newport Rhode Island restaurants, the first place I want to eat when I come back to Newport always seems to be Nikolas Pizza.

The pizza is good (I usually get a large pie with mushrooms), and their wings are the best!

I don't like them very hot (I usually get them mild), and I don't consider myself a connoisseur of chicken wings. I've just always loved the wings here.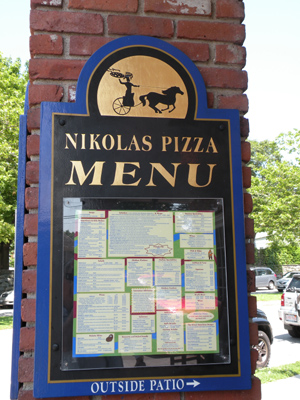 They do have many other items on their menu, but I can never get myself to try anything else. I guess I just like what I like when it comes to this place.

Nikolas is located close to downtown and is just a little west of Bellevue Avenue. After you've spent the day touring the Newport Mansions, stop by for an enjoyable lunch or dinner.

The kids will enjoy playing the Pacman video game inside while you wait for your order. If you want them to deliver, give them a call at 401-849-6611.
---
Ben's Chili Dogs
158 Broadway
401-846-8206

I could eat every meal here, every day for the rest of my life, and I don't think I would get sick of Ben's Chili Dogs!

This place won't win any awards for its decor or creative menu, but this is simply something you must try the next time you visit Newport Rhode Island!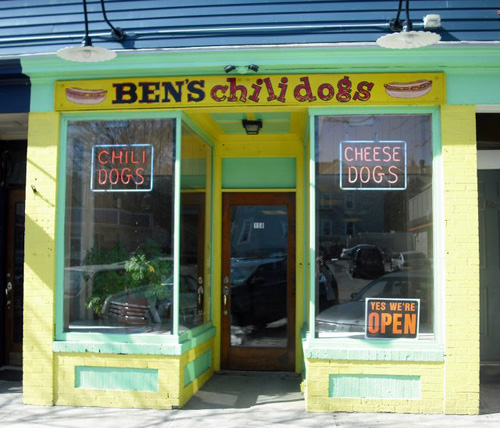 You can stuff yourself here for under $10. My usual order consists of 3 chili, cheese and onion dogs, a small bag of chips, and a drink.

I love to come in and order, then watch how fast Jerry cranks out those dogs. He does everything himself, even during the busy lunch rush.

This guy is amazing! I don't think I've ever seen anyone but him behind the counter in all the years I've been going there, and I hope he stays open forever!

***Update:
Saturday, May 1st 2010 is the last day for Jerry Bienvenue at Ben's Chili Dogs :( He's selling the shop to two Middletown residents, who I hope will continue the tradition.


Chili, cheese and onions........Yum!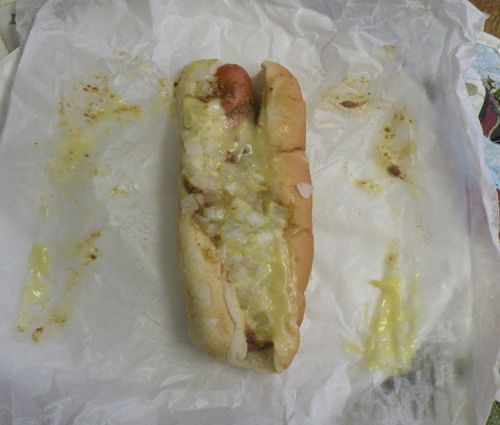 Just make sure you bring cash though, because they don't accept credit cards!
---
Newport Creamery
181 Bellevue Avenue
401-846-6332

The Newport Creamery is located on historic Bellevue Avenue, in the Bellevue Gardens Shopping Center, directly across the street from the International Tennis Hall of Fame and LaForge Casino Restaurant.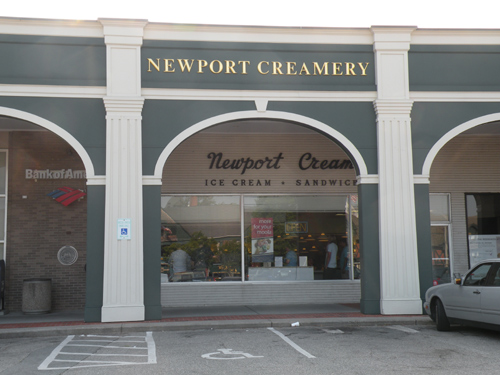 This was one of my favorite destinations as a kid growing up in Newport. I'm sure was a favorite for adults too, because to this day I love coming here to enjoy their ice cream, sundaes, and the world-famous "Awful Awful".
Trust me, the "Awful Awful" is much better than it sounds. It's a drink (much like a milkshake) that consists of milk, flavored syrup and a secret frozen ice milk mix. The recipe is Top Secret information.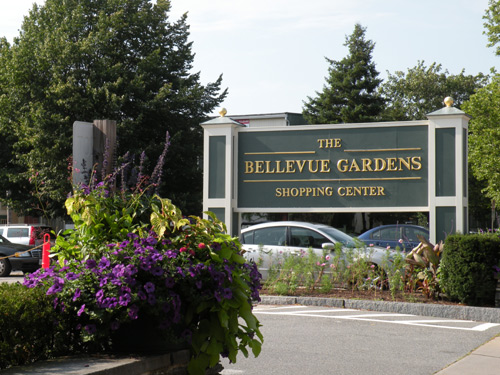 As the Creamery says:

They're "Awful big, awful good," and "If You Drink 3, You Get The 4th Free!" Good luck with that. As much as I like them, I don't think I want to make that attempt.

You can get one in the following flavors: Strawberry, Vanilla, Chocolate, Mocha, Chocolate Mint, Coffee, Oreo, Strawberry Banana Chip and Choc O' Nutter.
---
OK, that's enough on guilty pleasures for now. I'll let you in on some more later.

So for now, why not check out some other interesting things in Newport, like the Newport Mansions, Newport Cliff Walk or Ten Mile Ocean Drive?


Return from Guilty Pleasures to Newport Rhode Island Restaurants

Return from Guilty Pleasures to Newport Discovery Guide home page