Doris Duke
See how the heiress lived at Rough Point mansion
Doris Duke, the reclusive tobacco heiress and philanthropist, loved Newport and summered here for many years. Rough Point, the 39,000 square foot mansion with 105 rooms, was one of her many beautiful homes.

Duke passed away in 1993, and after some legal issues were sorted out, the property was opened to the public in 2000. I was lucky enough to see it at that time when I worked a small event that was held there for the opening.

Located at the southeastern end of Bellevue Avenue, Rough Point overlooks Newport's beautiful rocky coastline and can be seen from the scenic Newport Cliff Walk.


Click the play button to load the interactive panoramic image
Rough Point in Narragansett Bay
Image above courtesy of Chris Blake of Aerial Vr
---
This Newport Rhode Island mansion was commissioned in 1887 for Frederick W. Vanderbilt, the sixth son of William H. Vanderbilt. Frederick's older brothers, Cornelius (who built The Breakers) and William K. (built Marble House) had "summer cottages" of their own just up the street.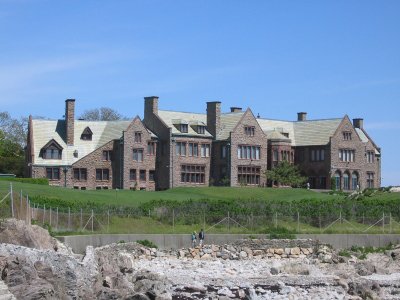 Vanderbilt sold the property to William B. Leeds in 1906, and Leeds' widow sold it to James B. Duke (benefactor of Duke University) in 1922.

Just one year after completing renovations in 1924, Duke passed away. He left the home and his fortune ($100 million) to his 12 year old daughter Doris Duke. Doris continued to use the home up until her death in 1993 at the age of 80.

This property is very different from the other Newport mansions. There are guided tours here, but it was actually dedicated as a museum, which Duke required in her will.


Painting of a young Doris Duke
The home really is amazing. Doris Duke collected many unique things on her worldwide travels. Some of the most interesting:
Thousands of paintings, including a Renoir and a Van Dyke portrait of King Charles II
Chinese porcelain
Hand painted wallpaper
2 end-tables that belonged to Catherine the Great
I was actually more impressed with some of the other cool features of the property. Duke not only had a
swimming pool in her basement
(with salt water piped in from the ocean), but she had a
single-person elevator
that would bring her down there from the 2nd floor! How cool is that?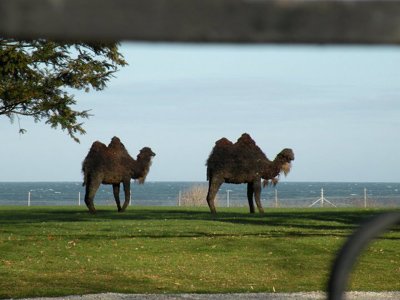 I was also intrigued by stories about some of her guests (such as
Elizabeth Taylor
and
Jacqueline Onassis
), and how she kept 2 camels on her back lawn (immortalized in the plant sculptures above) and
allowed her dogs to lounge on her 300 year old furniture
.
The story goes that when the staff would complain about the dogs damaging the furnishings inside the house, Duke would reply by reminding them that
"they live here, you only work here"
.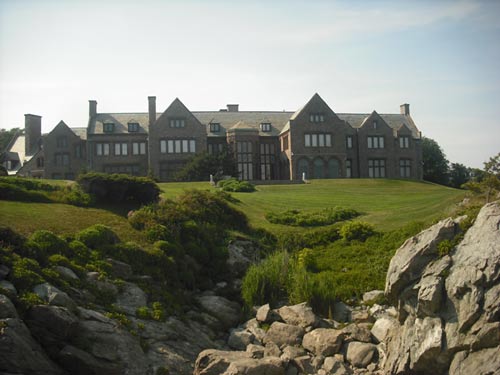 ***NATIVE ADVICE***
Children may not be too interested in this property, but if they're under 12 they enter free
Make your reservations before you even arrive in Newport, especially during the summer season
Ask the guides about her interior decorator Eduardo J. Tirella's death (Duke ran over and "accidentally" killed him with the car at the front gate in 1966)
---
***UPDATE - SEPTEMBER 2009***
I just found out recently that
my uncle worked for Doris Duke
, and was actually present on the scene just after this accident occurred. He remembers that Mr. Tirella was taking Miss Duke antique-shopping that day in a rented
1963 Plymouth station wagon
.
There was
much debate
about whether or not this was an accident, but after about a week, the investigation was dropped and the incident was labeled an
"unfortunate accident"
. The debate continues to this day.
---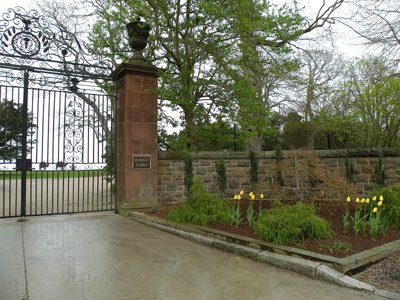 This is a very detailed tour that lasts about an hour. Tickets are a little more costly than the other Newport RI mansions at $25, but children under 12 enter free. You may buy tickets online or at the door depending on availability. If you really want to see this property, make your reservation in advance.

The group consists of only 12-14 people, so it's more intimate and personalized. You'll visit the entire first floor and then go upstairs to see Duke's bedroom.


Aerial view of Rough Point and the rugged coastline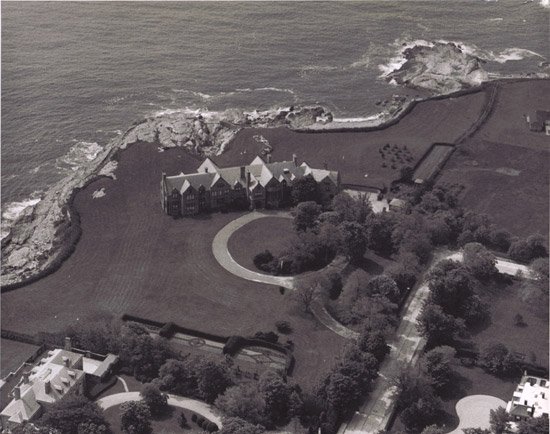 Rough Point is located at 680 Bellevue Avenue (the last house on the left). There is parking available, and the house is air-conditioned and wheelchair accessible. You can contact them at 401-847-8344.


Want to see more photos?
Check out From The Vault #3 to see more old photos of Rough Point from my grandfather's collection.


Return from Doris Duke to Newport Mansions

Return from Doris Duke to Newport Discovery Guide home page