Island Skating Academy
Island Skating Academy brings over 20 years of skating experience to Aquidneck Island and South County Rhode Island. Instruction is offered in a variety of disciplines and locations to suit your needs.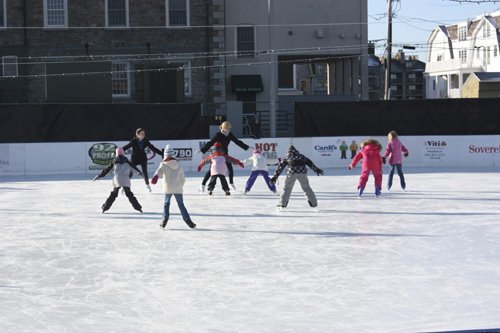 The Academy's director, Meghan Lamarre, has been skating for 23 years and has been coaching for over a decade. She studies with the Professional Skaters Association to remain active with her coaching, is a Level I ranked coach and has quite an impressive resume, including the following:
Toured with Disney On Ice in "Toy Story 2"
Was featured in the Ice Capades and Stars on Ice
Performed in the opening ceremony of U.S. Figure Skating Nationals
Island Skating Academy offers the following programs:
Learn to skate programs for beginners
Skating camps
Fundamental skating skills for hockey players and recreational skaters
Off ice strength training and aerobic conditioning classes
Private or semi-private figure skating lessons ranging from the beginner to advanced level in all disciplines
Sessions are offered year-round
at the following locations:
Sovereign Bank Family Skating Center (Downtown Newport)
St. George's school rink (Middletown)
Boss Arena on the University of Rhode Island campus (Kingston)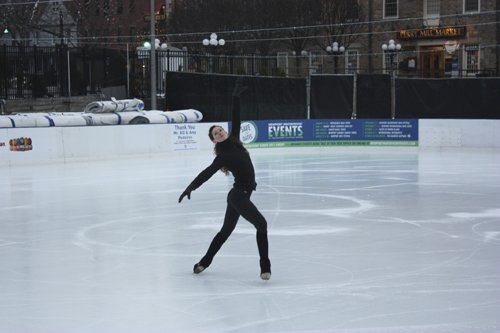 Below are some descriptions of the Academy's various offerings:

Beginner Skating School
Children age 4 and above are welcomed to participate. This class will prepare skaters to be confident skaters in whatever area of skating they choose such as hockey, figure skating, or recreational skating. They will learn a strong foundation of skating following the U.S.F.S.A requirements.

Adult Skate
Beginner-Advanced adult skaters may participate in this class. Adults will be grouped according to ability level, and will learn a strong foundation of basic skating and will have the opportunity to become advanced in figure skating, hockey, or just skate confidently and safely as a recreational skater.

Figure Skating Class
Figure skaters on basic 4 and above may participate in this class. It will offer proper skating technique, power skating, spin and jump lessons, artistry, and opportunities to learn choreography and perform with other advanced skaters.

Off-ice Conditioning Class
Figure skaters are encouraged to participate in off-ice training to improve strength, balance and stamina and prevent injury. This class will included yoga for balance and flexibility, pilates for core strengthening, plyometrics for jumping and power, cardio for stamina, as well as additional exercises for specific figure skating elements such as spread eagles, spirals and spin positions.



If you're looking for a patient, understanding and passionate coach, look no further.

So, what are you waiting for?

Contact Meghan today to schedule your first session.


Island Skating Academy
P.O. Box 323
Newport, RI 02840
401-952-4336
www.islandskatingacademy.com
Return from Island Skating Academy to Things To Do In Newport
Return from Island Skating Academy to Newport Discovery Guide home page