Newport Coffee Shops
People's Cafe
If you're in search of great Newport coffee shops to get your fix, look no further than People's Cafe on Thames Street. This is the city's newest cafe (as of this writing), located "where the People's Credit Union used to be", on Thames Street.


"ORGANIZE - CO-OPERATE"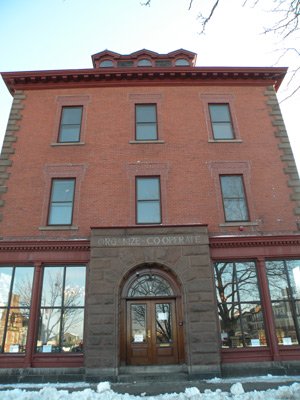 ---
***Note: I always joke with my mother that Newport natives seem to describe the location of new businesses by telling you what used to be there. I make fun of her when she does this, but I'm guilty of it myself.
---

Since I always knew this building as my mother's bank, it's pretty cool to see what they've turned the place into. As soon as you walk in, you're greeted by the huge vault right in front of you, next to the counter.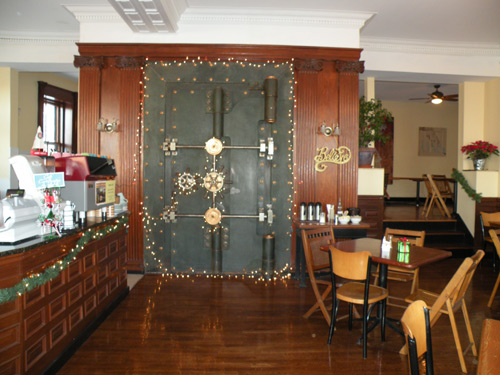 They serve breakfast and lunch (breakfast buffet on weekends), with a nice selection of:
Pastries
Croissants
Bagels
Soups
Sandwiches
Coffee
Espresso
Tea
Cold beverages
I was pleasantly surprised
at how good the coffee was. I'm a daily Starbucks drinker, but will definitely return here the next time I'm in town. My
egg sandwich on an everything bagel
hit the spot too.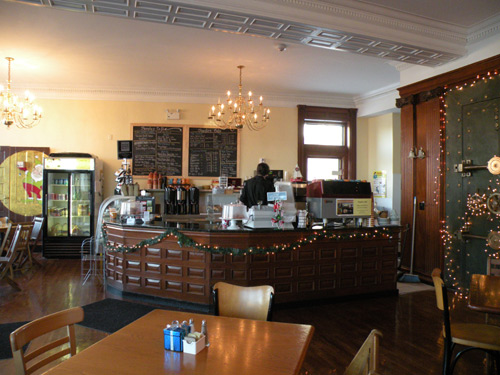 There are plenty of tables in the main seating area and a few comfy chairs near the window (great for people-watching on Thames Street). If you walk up to the second level, there's a bar, another sitting area and some additional tables and space that can be configured any way you want.

If I had to guess, I'd say that this is the area where the bands play when they have live music here. You never know when you might walk in on a great event and great music, so if you're in the area, be sure and stop in.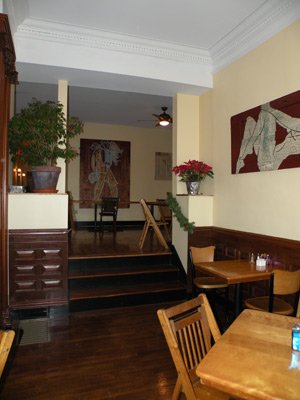 This is the cozy little sitting area behind the vault door (sorry, the Credit Union didn't leave any cash behind). You can also sit at the bar on the right, where you can watch your food being prepared.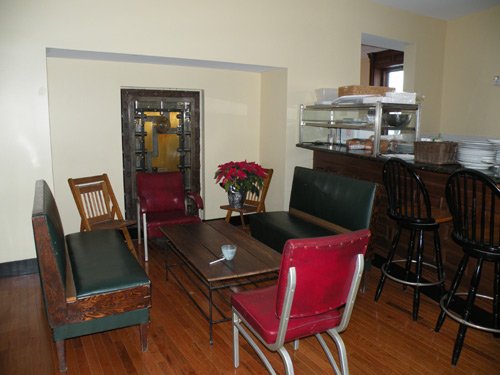 This is a great downtown location to host a private party or function. If you're interested in doing so, contact Vivienne O'Dwyer at 401-855-5534 or peoplescafe@cox.net.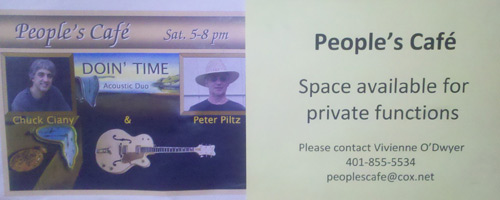 People's Cafe
282 Thames Street
< Newport, RI, 02840
401-619-1022
Return to Newport Coffee Shops
Return to Newport Discovery Guide home page