Newport Rhode Island Hotels
The Chanler at Cliff Walk
There are many great Newport Rhode Island hotels. But if you're looking for a combination of history, luxury and spectacular ocean views, look no further than The Chanler at Cliff Walk.

This European styled boutique hotel overlooks the famous Newport Cliff Walk, Easton's Beach and is just a mile from downtown Newport's waterfront restaurants, lively bars and unique shops.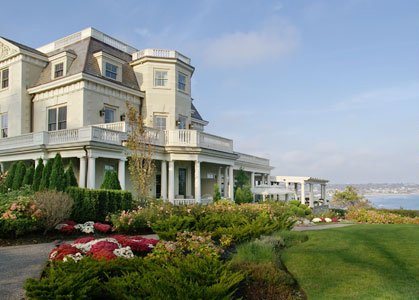 Accommodations
Dining
Meetings/Weddings
Special Packages
Contact Us


View of The Chanler from the garden

The photo below shows off one of the best views in Newport. I can't think of too many spots I'd rather enjoy a meal and the views of the Atlantic Ocean and Newport Cliff Walk.

Few Newport Rhode Island hotels can treat their guests to such a great view.
---
Accommodations
Manor Rooms
Estate Rooms
Signature Rooms
Ocean Villas
Garden Villas

There are 20 beautifully appointed guest rooms at The Chanler. I love the way they set them up, each one designed to reflect a different period or theme.

Each room has a flat screen TV, wireless internet, fireplace, wet bar and CD/DVD player. The beautiful marble or granite bathrooms even have heated floors and showers with body or rain heads and hand-painted tile murals.

17 of the 20 rooms have ocean views, from either the room or the deck, and most rooms have king or queen beds, skylights and Jacuzzi tubs.

Few Newport Rhode Island hotels can compete with the variety and quality accommodations offered by The Chanler.


Manor Rooms
The Chanler's Manor Rooms reflect different architectural periods, hence the names:
Greek Revival - Queen sized bed, ocean and garden views, semi-private deck, limestone bath
French Provincial - Bi-level, Queen-sized bed, sitting area, views of ocean and beach, double Jacuzzi with ocean views
The Colonial - Semi-private deck overlooking the ocean and lawn, Queen-sized iron bed, handicap accessible
The Federal - Queen-sized iron bed, large rooftop deck great for sunning
The Williamsburg - Queen-sized bed, shuttered sunroom with double Jacuzzi and water view
The Victorian - Ocean and garden views, sitting area with antique Victorian furniture, double Jacuzzi overlooking lawns
Greek Revival Manor Room
---
Estate Rooms
The Chanler's Estate Rooms are junior suites, each with large sitting areas and oversized baths with double Jacuzzis.
Mediterranean Suite - Queen-sized iron bed, panoramic view of beach/ocean from all five windows
Gothic Suite - King-sized bed, large couch, purple marble bath. You'll feel like you're in a medieval castle
Empire Suite - Queen-sized bed, ocean and garden views, separate sitting area, separate toilet and bidet area
Georgian - King-sized bed, ocean views from 3 large windows, sitting bay with comfy wing chairs
Mediterranean Suite
---
Signature Rooms
You'll never forget your stay in one of The Chanler's Signature Rooms, with their amazing views and plush living areas.
Renaissance Suite - This is The Chanler's most opulent room. King-sized bed, 3 TVs, separate make-up area, expansive rooftop deck overlooking the ocean
Louis XVI - King-sized bed, sitting bay, oversized semi-private deck with panoramic ocean views, antique carved fireplace
English Tudor Suite - Raised platform bedroom area with antique oak flooring, four-poster king-sized, plush living room area with suede couch, overstuffed chair and large desk
The Regency - Gold crowned king-sized bed, floor to ceiling windows, expansive semi-private deck, spectacular ocean, lawn and garden views
Regency Suite
---
Ocean Villas
The Chanler's Ocean Villas possess breathtaking views of the Newport Cliff Walk and Easton's Beach. Each has it's own private courtyard garden, covered outdoor hot tub spa and private sauna.
Martha's Vineyard - The largest and most opulent of the Ocean Villas. King-sized four-poster bed, carved fireplace wall, stunning ocean and beach views from elevated deck
Nantucket - King-sized four-poster, half-canopied pine bed and the best ocean views in the hotel from elevated deck
Block Island - Antique pine flooring, half-canopied Queen sleigh bed, double Jacuzzi with hand painted beach mural
Martha's Vineyard
---
Garden Villas
The Chanler's Garden Villas are all surrounded by gardens and have their own private courtyard, fountains and a stucco wall.
Briar Rose Garden Suite - Front porch and huge outdoor private courtyard, Queen sized bed, large bath, outdoor hot tub in fountained courtyard
Peonies and Ivy - Elevated large deck with spectacular beach and ocean views, 8-foot French doors open to deck, Queen bed
English Trellis - Ocean views from large raised deck, 2 Queen beds, double Jacuzzi, separate, double shower
Peonies and Ivy
---
Dining
In addition to being one of the finest Newport Rhode Island hotels, The Chanler is also home to the nationally acclaimed Spiced Pear Restaurant. The Spiced Pear serves mouthwatering contemporary American cuisine featuring local New England ingredients.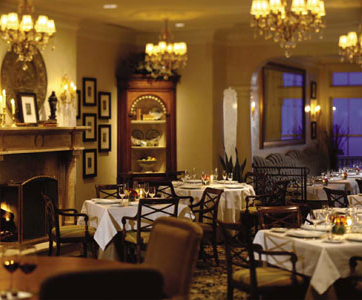 The comfortable and elegant dining room is the perfect place to enjoy a fantastic meal while enjoying the unparalleled views of the Atlantic Ocean.

For lunch, try the GQ Burger and the Mocha Truffle Cake for dessert. For dinner, start things off with the Alaskan King Crab and try the Moroccan Spiced Duck Breast entree. Your taste buds will be in heaven!
Reservations are suggested, and can be made by calling 401-847-2244.
---
Meetings/Weddings
If you're planning a meeting or a wedding, you should definitely consider The Chanler. Imagine having your open-air, oceanfront ceremony overlooking the Newport Cliff Walk in the romantic Japanese Gardens.
The breathtaking oceanfront views, luxurious accommodations and the stylish cuisine make The Chanler the perfect location for your wedding or event. Few Newport Rhode Island hotels can offer this perfect situation for your special day!

Contact a Wedding Specialist to begin making arrangements today!
---
Special Packages
The Chanler has some amazing special packages available that will definitely enhance your Newport experience:
Ultimate Romance Private Dinner...
The Chanler Elopement Package...
A Well-Kneaded Break!
Sweet & Suite Package
The Chanler WOW!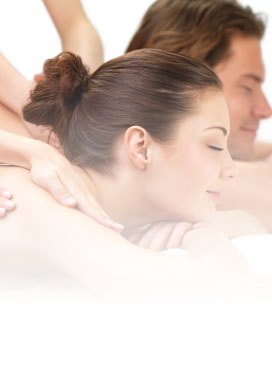 Whether you like being pampered a little more than the average guest, desire a Well-Kneaded Break, or you've decided to elope, why not do it at The Chanler?
---
Few Newport Rhode Island hotels can compete with the entire package offered by The Chanler at Cliff Walk. Contact them today to make your reservations or plan your event.


The Chanler at Cliff Walk
117 Memorial Boulevard
Newport, RI 02840
866-793-5664
Return from The Chanler to Newport Rhode Island Hotels
Return from Newport Rhode Island Hotels - The Chanler to Newport Discovery Guide home page