Where do we go for breakfast in Newport?
by Jim
(Rochester, N.Y.)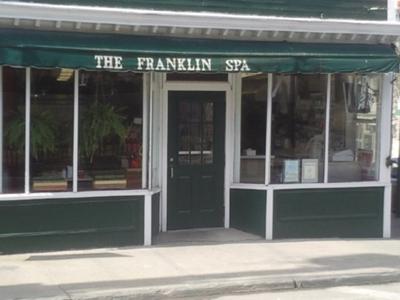 Franklin Spa on Spring Street
We are planning a trip to Newport in September. Where's a good place to eat breakfast?

Also, are there any arts and crafts shows there?

We'd also like to take a train ride, but my wife is in a wheel chair. What do you suggest?

Thank you for help.

Jim and Pauline


My response:

Hey Jim!

There are plenty of great breakfast spots. Depending on where you're staying, there's Franklin Spa on Spring Street, Atlantic Grille on Aquidneck Avenue (near the beach) and Annie's on Bellevue Avenue.

There is an arts and crafts show in April, but none that I'm aware of in September.

As for the train ride, this is the info I got from the Newport Dinner Train:

Good Morning Mr. West-

In September, luncheon departures are on Thursday and Saturday at 11:30am; dinner departures are Friday and Saturday evening at 6:30pm.

All departures are from the Newport Depot located at 19 America's Cup Avenue. If you visit our website www.newportdinnertrain.com and click on the schedule bar, all of the events we offer with a brief description are available to view.

Our train crew does provide assistance upon request to our handicapped patrons when they board and upon departure from the train. However, by state standards we are not considered handicapped accessible.

Please call our office at 841-8700 for more details.

I hope this helps, and I hope you enjoy your visit in September!

Paul

Join in and write your own page! It's easy to do. How? Simply click here to return to Questions about Newport?.