" People's Cafe - Amazing Almond Joy Iced Coffee"
by Christina Briggs
(Nashua, NH)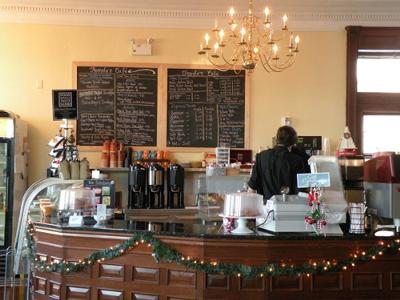 People's Cafe
My husband and I traveled to Newport, Rhode Island for our 9th anniversary weekend getaway last month. It was a beautiful and wonderful time. The retaurants were great, but one in particular that stood out was a place on Thames Street called "People's Cafe."

It was a tall brick building with it's door wide open welcoming people to come in and enjoy some amazing food and flavorful iced coffees and teas. I ordered what I believe to be the most delicious Turkey BLT I have ever tasted. Fresh lettuce, tomatoe, and mayonnaise on a sourdough roll with perfect crisp bacon and succulant turkey on top. I then enjoyed a yummy Almond Joy Iced coffee which was out of this world. It tasted just like the candy bar.

Outside the restaurant was a little metal table and three chairs for those who preferred to dine outside and watch the people go by or just to enjoy looking at the boats on the waterfront. It is a fun and comfortable atmosphere with friendly and helpful staff. "People's Cafe is the place to go whether you are looking for a tasty quick bite to eat, have a flavored iced coffee, or just to sit and relax with a book to read and a warm cup of their vanilla bean tea.


Join in and write your own page! It's easy to do. How? Simply click here to return to Best Newport Restaurants.