Newport Babysitting
Creative Childcare Anywhere!
Newport Babysitting Services, Inc. brings
professional babysitting to your doorstep and beyond. This fully insured company can handle every aspect of your babysitting needs.


Whether you're visiting Newport for a wedding, need a nanny for the summer or you're a local who needs a sitter for date night, they can lend a helping hand.
Babysitting
Nanny/Mother's Helpers
Weddings/Group Events
Rates
Contact


Babysitting
Daily, nightly or long term babysitting services are provided in a safe, nurturing and fun-filled way.

All of the company's sitters (who are extensively screened and highly qualified) will arrive at your preferred location with age appropriate games, arts and craft supplies and enthusiasm to ensure your child has a good time.

The staff consists of preschool and elementary teachers, pediatric nurses and university students studying education and nursing. Your children will be in good hands with these dedicated individuals.

***CPR certified sitters are available upon request.
---
Nanny/Mother's Helpers
Newport Babysitting Services offers Nannies and Mother's Helpers that are committed to providing a safe and nurturing environment for your child.

All candidates go through a thorough screening process, which includes:
National, state, county and Social Security background checks
Past address history
Driving record screening
Extensive interview process
Personal and professional reference checks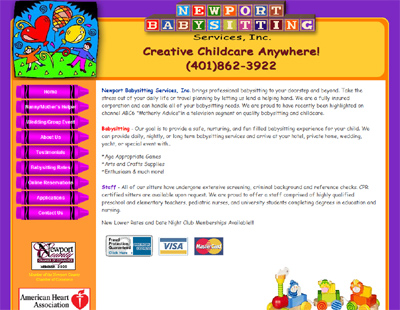 The duties of the Nannies and Mother's Helpers:
Delivery of quality childcare
Light housekeeping (laundry, light cooking, grocery shopping, upkeep of play areas)
Other mutually agreed upon tasks
Newport Babysitting Services also offers a
Nanny and Mother's Helper finding service
. If you plan on vacationing here during the summer and require full or part-time child care, they can assist you by screening candidates and families to
find the perfect match
.
***There is a one-time agency placement fee for this service
.
---
Weddings/Group Events
Newport Babysitting Services specializes in making any event family friendly. Whether you're at a wedding, family reunion or any other type of group event, activities can be organized for large and small groups of children to keep them entertained while the adults do their thing.

Caregivers will arrive at your event with all the games, educational programs and enthusiasm needed to make it fun for the children.

Some past themes include:
Sea Shells By The Sea Shore
Beach Buddies (with live sea creature touch tank)
Princess and Princes
Send In The Clowns
Pirate Treasure Hunt
---
Rates
The salaries of the Nannies and Mother's Helpers are usually in the range of $400 to $700 per week, depending on the caregiver's experience.

Babysitting Ratios are 1:1 for children under 24 mos., 1:2 for children 2 to age 4, 1:3 for children ages 4 to 6, 1:4 for ages 6 and up. (These ratios may be modified according to babysitting location/event or under special circumstances).
Babysitting services start at $20 per hour (depending on the number of children)
A non-refundable deposit of 50% is charged on a credit card at the time the reservation is booked
The balance is paid directly to the babysitter after each day or night of services
Payment made to the sitter can be made by cash or check
Gratuity is not included
4 hour minimum booking
American Express, Visa, or Mastercard required to reserve a sitter
For services off of Aquidneck Island the sitters are paid a $20 transportation fee
For large groups and special events please inquire below for a custom quote
If you require more frequent services, you may be interested in the
"Date Night Club"
, which will give you further discounts.
Inquire below for more information
.
---
Contact Newport Babysitting Services today to inquire about their services or to make arrangements for a caregiver.


Newport Babysitting Services, Inc.
PO Box 97
Portsmouth, RI 02871
401-862-3922
Return from Newport Babysitting to Newport Business Directory
Return from Newport Babysitting to Newport Discovery Guide home page