Newport Folk Festival
Site of historic musical performances since 1959
The Newport Folk Festival, founded in 1959 by George Wein, has been the site of
legendary musical performances over the years. Many great artists have graced the stage here, including Bob Dylan, Joan Baez, Johnny Cash, The Allman Brothers, Jimmy Buffett and The Black Crowes.

Bob Dylan burst onto the national stage here in 1963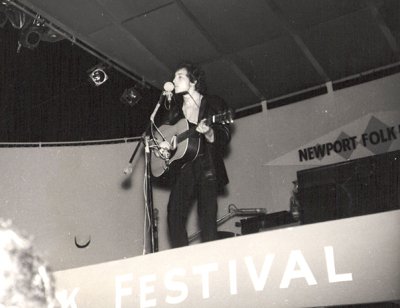 This annual festival takes place on the north lawn of historic Fort Adams, with amazing panoramic views of Newport Harbor, the Newport Bridge and the East Passage of Narragansett Bay.
---
Native Advice
Traffic and parking can be a little tricky for this event. There is parking for buses if you're traveling with a group. If you're planning on driving, you may want to order your tickets online and add the parking option as well.

Other options include biking out to Fort Adams, taking the water taxi (leaves from Old Port Dock at the Mooring Restaurant on America's Cup Avenue) or riding the RIPTA Bus.
---
Fort Adams - North lawn in foreground
The Newport Folk Festival was extremely popular in it's early years, drawing crowds of 20,000 people. It ran from 1959 to 1971, but then shut down for over a decade due to hard times.

It resumed in 1985, and continues to be one of Newport's most popular summer events, drawing fans from all over the world back to the "City by the Sea".


Joan Baez and Bob Dylan - probably 1963 or 1964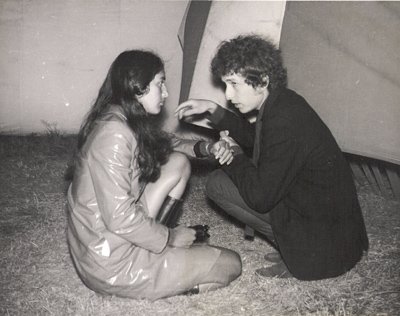 ---
Video Clips
Check out the video clips below. Some contain footage of the Festival's most memorable performances, and there are also a few clips of artists scheduled to perform in 2010, including Steve Martin and the Steep Canyon Rangers (yes, Steve Martin the actor/comedian) and Edward Sharpe and The Magnetic Zeros.
Joan Baez and Bob Gibson - "Virgin Mary had One Son"
This is an audio clip of Joan Baez singing with Bob Gibson at the first festival in 1959 (I wasn't there, but I'm pretty sure that was the year).



Bob Dylan - Mr. Tambourine Man - 1964
This is a cool clip of Dylan from 1964. I must admit that I've never been a huge fan, but I love this song. Every time I hear it I think of my father, who loved Dylan and used to work at the festivals during high school.


---
The Electric Dylan Controversy
Rumor has it that on July 25, 1965, Bob Dylan was booed off the stage because he "plugged-in" and sold out, beginning his shift from folk to rock singer.

Although this version seems to have been cemented into history, there is another interesting take on what happened that night.

Check out this article by Bruce Jackson, (UPDATE 2010:The author must have moved this article, because the link is dead. If I track it down, I'll re-link it) one of the early directors of the Festival who was in attendance that night. Is it possible that the crowd was booing because they didn't want Dylan to stop playing?
---
Dylan, Baez and their fans
As someone who's never been a fan of hounding celebrities for autographs and making a fool out of myself, I love what Baez says at the 2 minute mark of this clip:

"idolatry's a little weird...I don't mind if they (the kids) act like a bunch of monkeys like that, they're sweet...when grownups do it it's a little silly."



Donovan - 1965
Newport was also the site of Donovan's U.S. performing debut. The Scottish singer was discovered in England, but is probably best known for his U.S. hits Hurdy Gurdy Man, Mellow Yellow and Sunshine Superman.


---
Scheduled to perform in 2010
Steve Martin and the Steep Canyon Rangers on Letterman

Edward Sharpe and The Magnetic Zeros
---
More Native Advice
A few more tips about the Festival's rules and regulations:
You're allowed 1 hand held cooler per person (no larger than 16x12)
No alcohol or glass containers (they will search your cooler!)
Maximum size for individual blankets is 8′x10′
Low-backed chairs only (under 30″) to ensure good viewing for your neighbors
No beach umbrellas or anything that could obstruct the view of others
No Pets
---
Tickets
You can purchase tickets for the 2010 Newport Folk Festival by visiting their office at Empire Tea and Coffee (located at 22 Broadway) or you can click here to buy tickets online.

For general information and inquiries:


Newport Folk Festival
PO Box 3865
Newport, Rhode Island 02840
401-848-5055
Return from Newport Folk Festival to Newport RI Events
Return from Newport Folk Festival to Newport Discovery Guide home page