People's Cafe
by Christina Briggs
(Nashua, NH)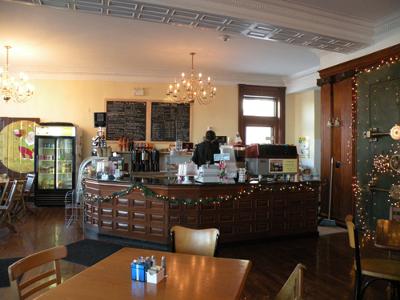 People's Cafe
My husband and I arrived in Newport, Rhode Island on May 12, 2012 for our 9th year anniversary. We decided to walk along Thames Street to look for a place to eat for lunch. As we strolled down the cobble street, the smells of fresh bread and brewed coffee caught our attention.

To the right of us, stood a tall brick building with tall windows going up the sides of the building with a wooden door in front. There was a quaint little metal table and chairs outside the cafe to the right of it; for those who desired to eat and drink in the cool fresh air, as it had been on this particular day. The door was wide open for anyone who wanted to come in. I loved that part about the restaurant. The atmosphere was warm and inviting. I could picture poetry night being held there on a saturday afternoon.

They had the best Turkey BlT that I had ever tasted. The sandwhich consisted of a warm sourdough roll filled with mayonaise, crisp bacon, fresh lettuce and sliced tomatoe, and a juicy piece of grilled chicken breast on top. I enjoyed every bite of it. The vanilla tea with honey was flavorful and a delightful treat that was perfect for the chilly weather that day.

My husband enjoyed their Chicken Cordon Blue sandwhich with it's succulant mixture of chicken salad covered with cheese and ham on toast. His taste buds were highly satisfied. He was impressed to see this type of dish made with chicken salad, and it worked well in this particular lunch.

People's Cafe is a wonderful place to attend for a delicious homemade breakfast on the go sandwhich, cinnamon roll, or an almond joy iced coffee as also discovered. The staff was very accomodating and friendly. It is a relaxing place to stop and enjoy a warm or cold cup of coffee and write your next story. You could also just come and take in the scenery of interesting people and the beautiful waterfront, or enjoy some summer reading.

Paul's response:

Thank you for sharing this Christina!

I love People's Cafe too and can't wait to get in there again.

The food and coffee are great and like you said, it's a very entertaining spot to people-watch and enjoy the ambiance of downtown.
Join in and write your own page! It's easy to do. How? Simply click here to return to Best Newport Restaurants.