White Horse Tavern Dinner
One word: Amazing
Hmmm....Should we stay in after the snowstorm, or head out for a mouthwatering White Horse Tavern dinner?

Of course, it's a no-brainer. Especially now that Executive Chef Rich Silvia is in the kitchen!


Me and my Director of Photography (Mom)
We went right after the "Blizzard of 2010" (why only 8" was called a blizzard, I'm not sure), but this is a nicer photo of the outside, so I used it instead.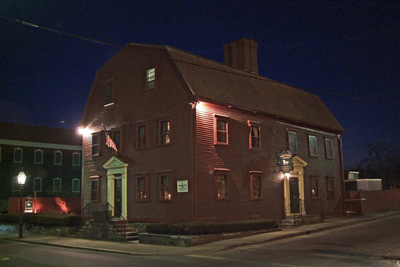 We sat at a great table directly in front of the toasty fireplace. Since I didn't have a winter jacket on, this was the perfect spot and I warmed up nicely.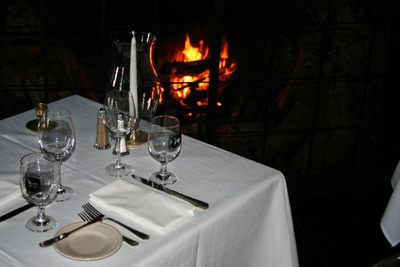 We started off with a couple of appetizers: New England Cheese Tasting with honeycomb, candied nuts, fruit compote and house crisps and Lobster Arancini with harissa cream sauce, roasted tomatoes and petit herbs.
Lobster Arancini (crispy lobster risotto balls)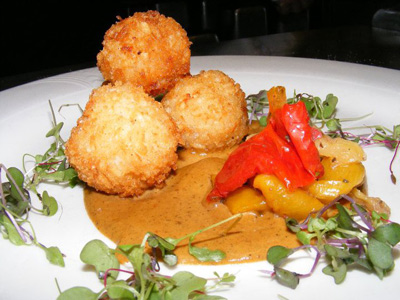 Entrees:

My mom had Grilled Shrimp over bacon-cheddar polenta with sauteed spinach and harissa cream sauce. I had the Grilled Filet Mignon over maytag blue cheese mashed potatoes with braised greens and a rich veal reduction.

I wish I had taken photos of the entrees. But just imagine the perfect portion of filet and mashed potatoes that literally melts in your mouth. Chef Rich really outdid himself here.

For dessert, we split the Triple Silk. I had been craving it all day, and it didn't disappoint.


Triple Silk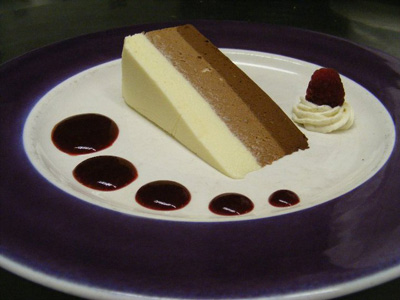 We also took a couple of desserts home: The Trio of Sorbet and an order of Bread Pudding. My cousin and grandmother loved them, and my mother and I couldn't resist sampling them as well!

Thank you Chef Rich, for a great night and an amazing meal! It was great to see you again.

If you haven't been in to sample his creations yet, you're missing out. I'm counting the days till summer when I can stop in again and enjoy a nice lunch outside on the patio! See you then.

Return to White Horse Tavern

Return from White Horse Tavern Dinner to Newport Discovery Guide home page