Newport RI Attractions
Cardines Field
One of my personal favorite Newport RI attractions is
Cardines Field on America's Cup Avenue.

This historic field is one of the oldest ballparks in the country, and is a great spot to enjoy a game with the family. It's right downtown on America's Cup Avenue, across from the Newport Visitors Center and the Marriott hotel.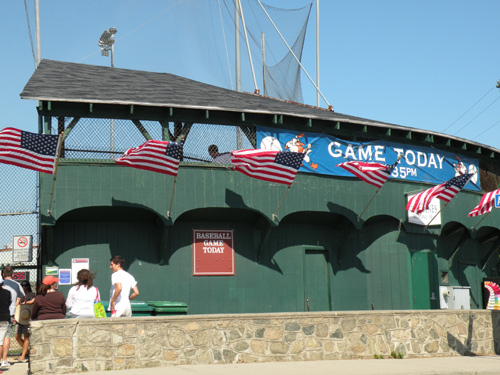 If you're looking for some Newport RI events to attend or some great kids activities, this is the spot.

I was fortunate to be able to play here growing up, where I played in the Babe Ruth League (13-15 yrs old) and for Rogers High School.

In addition to those teams, Cardines Field is also home to the:
George Donnelly Sunset League
Newport's American Legion Team
Newport Gulls (of the New England Collegiate Baseball League)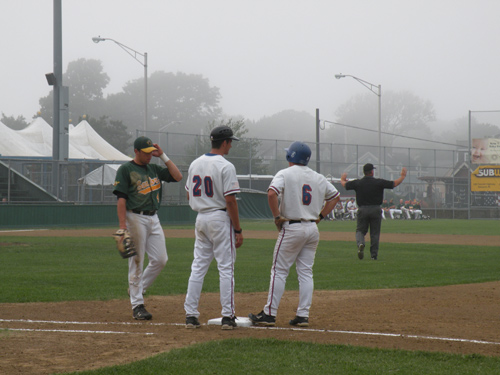 The Sunset League began in 1919, and is the oldest continuous amateur baseball league in the country.

The games used to start at 5:30 pm and be played until sunset (hence the name). Now that the field has a lighting system, games start and finish a little later.

In the early days of this field, some of baseball's greats passed through here, including Satchel Paige, Yogi Berra, Phil Rizzuto and Bob Feller.
Now, the biggest draw here is the Newport Gulls of the New England Collegiate Baseball League. Attending one of their home games is a great time, especially for children.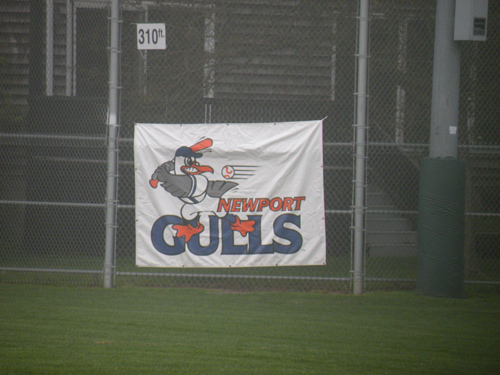 In addition to the great baseball, there are many things to entertain kids at Gulls games, including:
Team Mascot - Gully
Concession stand
Kids contests in between innings
Souvenir stand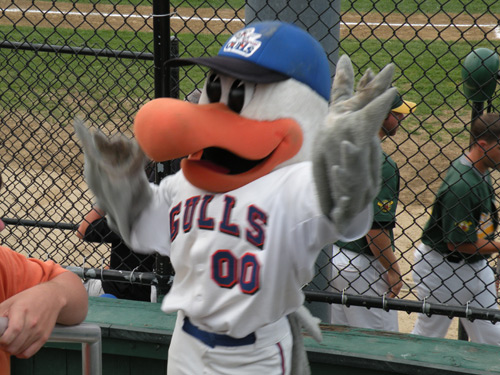 All Newport Gulls games start at 6:35 pm, and you can't beat the price:
$4.00 for adults
$2.00 for seniors, military and teens
$1.00 for kids 12 and under
Now,
your kids may spend 10 times that
at the concession stand and the souvenir shop, but at least you can get in for a reasonable price!
The food is pretty good too. The last time I was there, I had a
shaved steak sandwich with mushrooms and onions
, which I definitely recommend.
You can expect
crowds of up to 3,000 people
, especially during playoff time in August.
Some of the adult fans are rowdier than the kids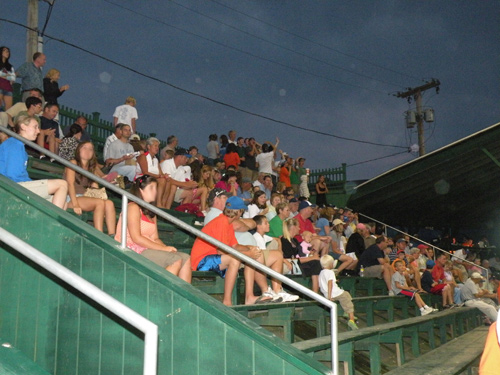 View from 1st base line, behind the dugouts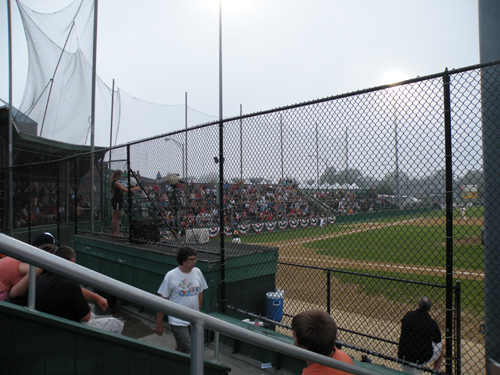 If you're looking for things to do in Newport, catching a game here is a great way to spend an evening. You won't be disappointed. Newport baseball at its finest.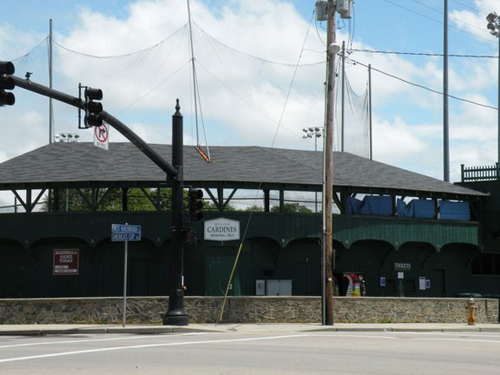 What's Nearby
Newport Visitors Center
The Gap
Newport Dinner Train
Panera Bread
Cardines Field
20 America's Cup Ave
Newport, RI 02840
401-845-6832
Return from Newport RI Attractions - Cardines Field to Newport RI Attractions
Return from Cardines Field to Newport Discovery Guide home page