Welcome to the Ocean State!
There's No Place Like Home
Returning home to the Ocean State is always one of the highlights of my summer.
There's nothing like being in Newport Rhode Island during the beautiful summer season.

Front lobby of Providence Airport (PVD)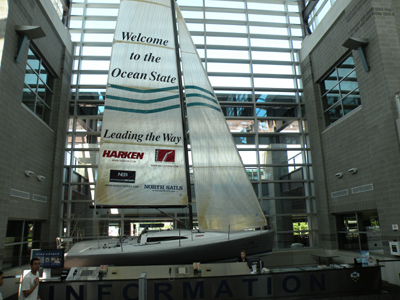 T.F. Green Airport is the most convenient to fly into if you're going anywhere in Rhode Island. It is actually located in Warwick, about 10 miles south of Providence.

This airport is pretty nice, having undergone some renovations in the past few years. It is much less congested than Logan Airport in Boston, and is home to some great shops and restaurants, including:
Borders book store
Only in Rhode Island
Brooks Brothers
Federal Tavern
TGI Fridays
Providence Oyster Bar
Starbucks Cafe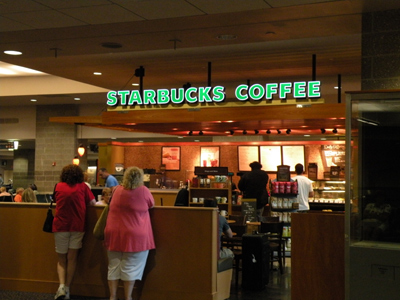 Normally, since the Ocean State is so small, it only takes about 30 minutes to get to Newport from the airport. But today wasn't any other day.

I should have realized that since it was the Saturday of the 50th Annual Newport Folk Festival, taking an alternate route would have been a good idea.


Newport Bridge - connecting Newport to Jamestown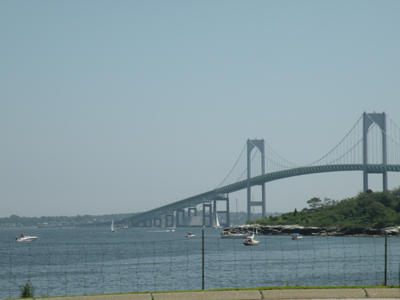 Unfortunately, I didn't have my thinking cap on, and I went over the Jamestown and Newport Bridges. As I approached the Newport Bridge, I realized that my growling stomach was going to have to wait a little longer for lunch.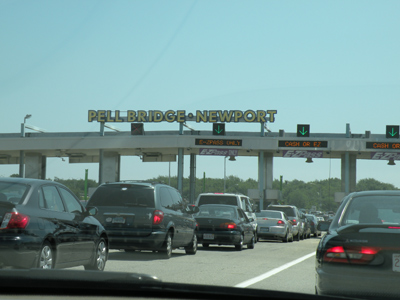 The only good thing about being stuck in traffic on the Newport Bridge is the view. Instead of cursing the idiots in front of me for holding me up, I remained calm and enjoyed the spectacular view of Narragansett Bay and the smell of the ocean.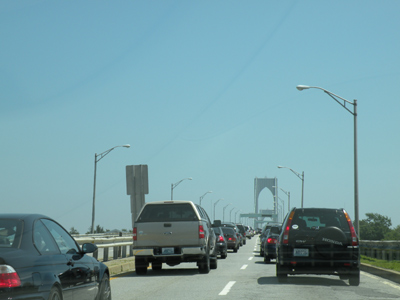 Home at last!!!

One of the best feelings you get as a native returning home to the Ocean State is seeing the sign for Scenic Newport. From there, it's just a few miles to your destination. Except for one thing.....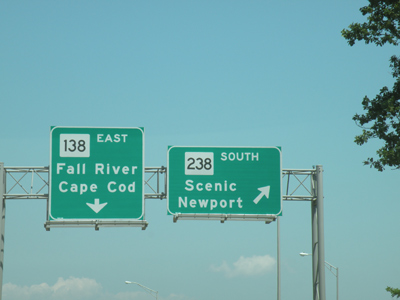 It's still the Saturday of the 50th Annual Newport Folk Festival. And on top of that, it's the first nice weekend without rain in months. Everyone is out enjoying the weather, and it's gridlock coming off the bridge as well.

After taking many back roads, we finally arrive at the promised land, Nikolas Pizza, on Memorial Boulevard. We take the pie to go, and head home to devour it.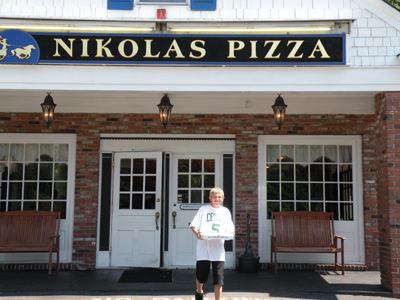 After unpacking and relaxing for a little bit, we decided to go for a ride around town to see some sights and enjoy the beautiful weather.

We passed Easton's Beach (aka 1st Beach), which was packed, as you can see below.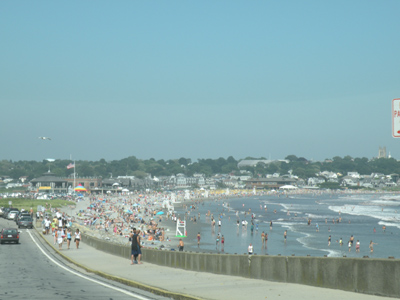 We continued on to Sachuest Beach (aka 2nd Beach), where we knew there would be a Del's Lemonade truck in the parking lot.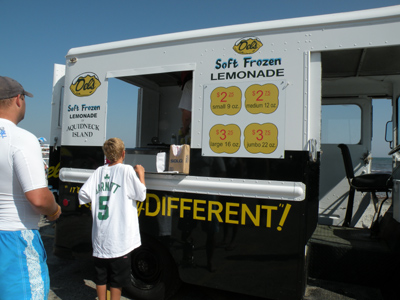 2nd Beach was just as crowded as 1st, if not more. I've never seen this beach so packed. All the parking lots were full, and cars were lined up on both sides of the street for miles.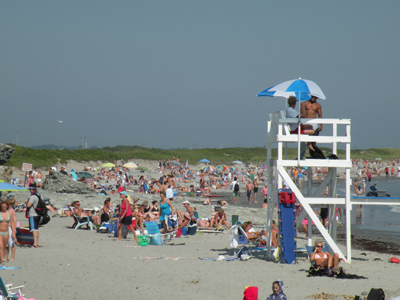 Once we got the lemonades, we went back up the hill (just past the beach on the left) to check out the view from Purgatory Chasm. There's a small parking lot with room for about 10 cars, and luckily we got a spot.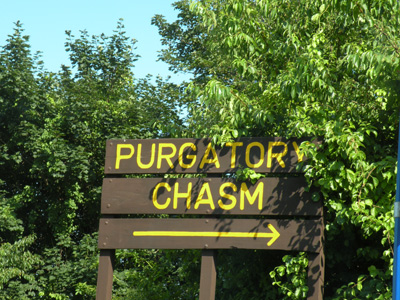 The view from up here is amazing. I could sit up here all day and just watch the waves roll into shore.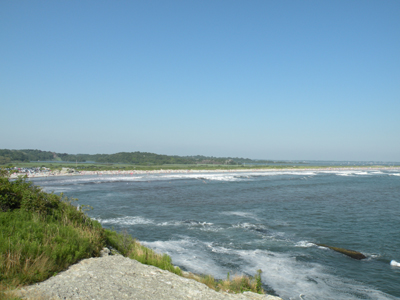 Some people climb all the way down the rocks and jump into the water. Others dive from pretty high up. I wouldn't recommend either.

These cliffs are very high, steep and dangerous. People have lost their lives here, and it's just not worth it. Enjoy the view, but be careful here.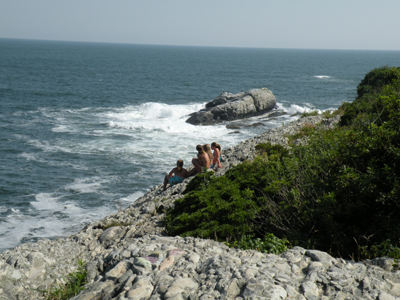 After taking in the view, head over to the little bridge that spans the chasm and look down.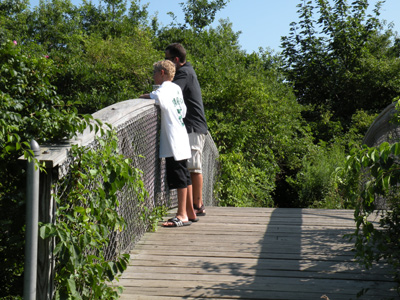 A picture really doesn't do this location justice. This is something you should see in person. It's amazing how a slice of the rock could be cut out like this. It makes you appreciate how powerful nature really is.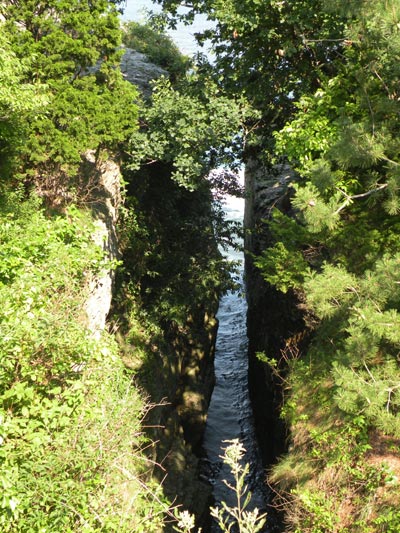 After checking out the beaches, we met up with my cousin and took a walk downtown on Thames Street and America's Cup Avenue.

There were huge crowds out enjoying the amazing Newport Rhode Island restaurants and unique shops. On days like this, it's actually better getting around on foot than in a vehicle.


Thames Street - the heart of downtown Newport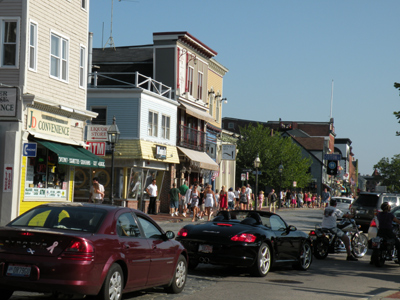 We walked down Bowen's Wharf, which is home to many amazing shops and restaurants, including 22 Bowen's Wine Bar and Grille.

This is also where you want to come to buy tickets for a boat tour and see beautiful Newport Harbor and Narragansett Bay. A trip to the Ocean State just isn't complete unless you go out for a sail!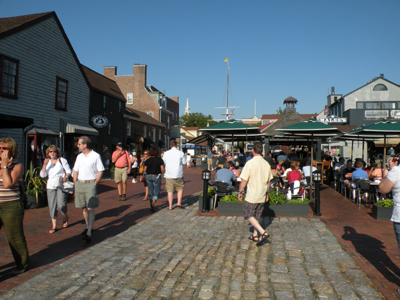 Check out the Aquidneck Lobster Company on your way home to get something to cook for dinner. There are also some other small shops inside that you wouldn't expect inside of a lobster house.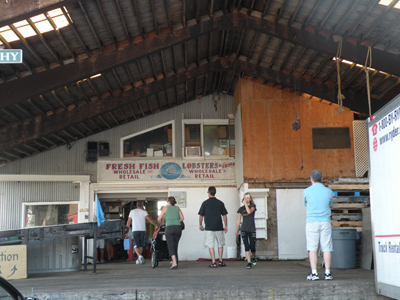 If you go all the way to the back of Aquidneck Lobster Co., there's an area where you can hang out for awhile and enjoy the view of Newport Harbor.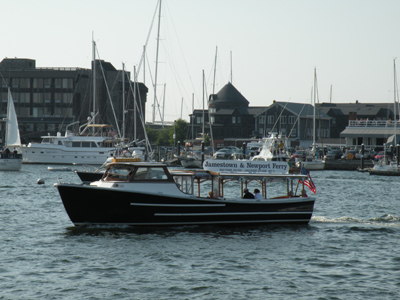 The Madeleine (below) is one of many vessels that can take you out to tour Newport Harbor, Narragansett Bay and many of the other sights like the Newport Bridge, lighthouses and JFK's former summer home.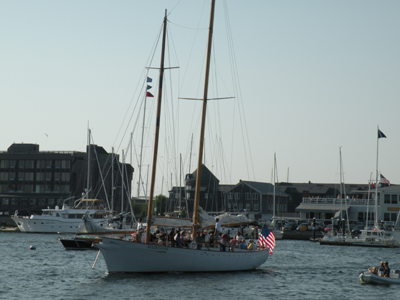 Many amazing boats visit the Ocean State every season, and Newport is the mecca for most of them. This downtown wharf area is the place to see them all.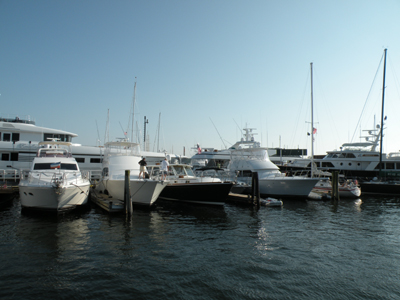 In the photo below you've got a nice view of My Kimberly of Ft. Lauderdale, FL, and also of the Coffee Grinder, one of my favorite cafes.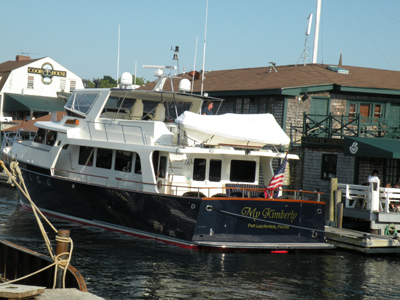 Well, that's about it for Day 1 back in the Ocean State.
Check out my Newport RI Day 2 update, which includes:
Go from Welcome to the Ocean State to Travel to Newport
Go from Welcome to the Ocean State to Newport Discovery Guide home page