Touro Synagogue
A symbol of religious freedom in Newport since 1763
Touro Synagogue,
the oldest synagogue in America, is one of the most popular Newport RI attractions. It was designed by the famed architect Peter Harrison, who also designed Newport's Redwood Library and Boston's King's Chapel.

This site has 30,000 yearly visitors, the most popular being George Washington, who visited the congregation while he was in Newport with Thomas Jefferson promoting the Bill of Rights.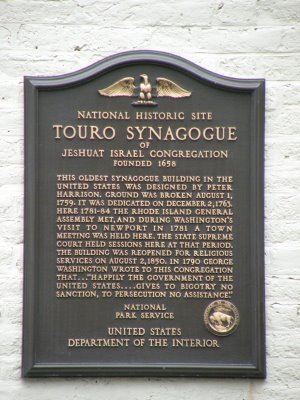 Brief History

Many Jews fled the inquisition and wound up in the colonies of the New World. The first group of settlers to come to Newport arrived in 1658. Those settlers founded the Congregation Jeshuat Israel (which means Salvation of Israel in Hebrew), which was just the second in the colonies.

Isaac Touro became the first spiritual leader of Jeshuat Israel in 1758. In 1759, the congregation bought some land and hired Peter Harrison to design the synagogue. The work was finished in 1763.

Luckily, even though the British captured Newport during the Revolutionary War, the synagogue was spared because the British used it as a hospital.
This historic and architecturally significant site was designated a National Historic Site in 1946. The synagogue has a rich history, and has played an important role in Newport's religious and governmental history.

Highlights:
Town Meeting held here in 1781 during George Washington's visit to Newport
Rhode Island General Assembly met here from 1781 to 1784
Rhode Island Supreme Court held sessions here
1790 Washington wrote a letter to the congregation

That letter, "To the Hebrew Congregation in Newport," assured the congregation that America would "… give to bigotry no sanction, to persecution no assistance." Washington conveyed the government's commitment to religious freedom.

---

***UPDATE - SEPTEMBER 2009***

The Ambassador John L. Loeb Jr. Visitors Center is now open. The center honors the Jews who were instrumental in the development of our young nation.

Chick here for more on the Loeb Visitors Center



Ambassador John L. Loeb Jr. Visitors Center

---

Tours

If you're interested in touring the synagogue, you can buy tickets at the synagogue's gift shop or at the Newport County Convention and Visitor's Bureau.

If you want a group tour, it must be prearranged. You can do this by contacting Malka Benjamin at 401-847-4794, extension 23.

Tickets for adults are $5.00

Admittance is free for children under 12, members of the synagogue foundation, NTHP Members and NPS pass holders.

If you're looking for interesting things to do in Newport, seeing this historic site should be at the top of your list.



85 Touro St
Newport, RI 02840
401-847-4794


Return from Touro Synagogue to Newport RI Attractions

Return from Touro Synagogue to Newport Discovery Guide home page