Newport Country Club
Playground of the rich for over a century
The Newport Country Club is one of five golf clubs that made up the United States Golf Association when it was founded in the late 19th century.

Originally designed by William Davis, this was the site of the first U.S. Amateur Championship and U.S. Open in 1895.

Tiger Woods won the club's centennial tournament here in 1995, and a year later, Annika Sorenstam was victorious here in the 2006 U.S. Women's Open.
The Newport Country was founded by members of America's most prominent families in 1893:
John Jacob Astor IV - great-grandson of John Jacob Astor who went down with the Titanic in 1912 - summered at Beechwood mansion
Theodore Havemeyer - president of the American Sugar Refining Company and first president of the USGA
Cornelius Vanderbilt II - grandson of Cornelius Vanderbilt - head of the New York Central railroad - summered at The Breakers
William K. Vanderbilt - second son of William Henry Vanderbilt - was into horse racing and breeding - built Marble House mansion on Bellevue Avenue
Frederick William Vanderbilt - third son of William Henry Vanderbilt - built Rough Point mansion, which eventually became the summer residence of Doris Duke
Early photo of the club - click to enlarge
The land for this course, located on the breathtaking Ocean Drive at the southern end of Aquidneck Island, was purchased by this group for $150,000. The course was originally only 9 holes, but was later expanded to 18 holes by architect Donald Ross.
I wonder what the elite founders of the club would think about the golfing attire and the way the game is played these days. Would someone like John Daly even be allowed to step foot on this course? Hmmm.....I doubt it.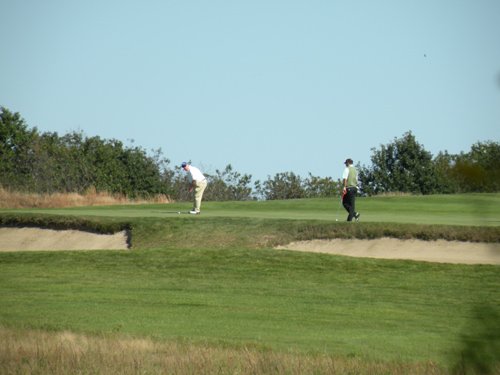 One of the biggest admirers of the Newport Country Club was the 34th President of the United States, General Dwight D. Eisenhower. Ike spent his summers in Newport from 1957-1960, and he played here every chance he got.

During a 25 day stay in the summer of 1957, he played here all but 3 days. Today's media would've been in an uproar about how much golf he played!

Eisenhower loved playing here so much, that he actually moved his summer residence from Newport's Naval War College to nearby Fort Adams in order to be closer to the country club!



Why Ike liked Newport - click to enlarge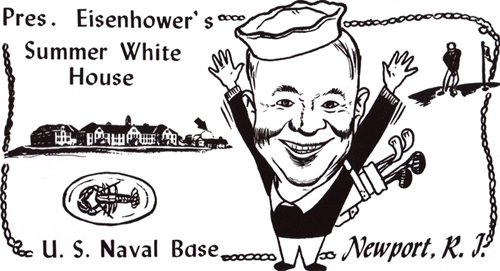 The image above, created by my talented grandfather during the years Ike spent here, sums up the President's time spent in Newport pretty well.
As the sign says, this is an exclusive private club. So if you want to play here, you have to know someone, or be extremely friendly and fortunate and befriend a member while you're out on the town at night!

Good luck!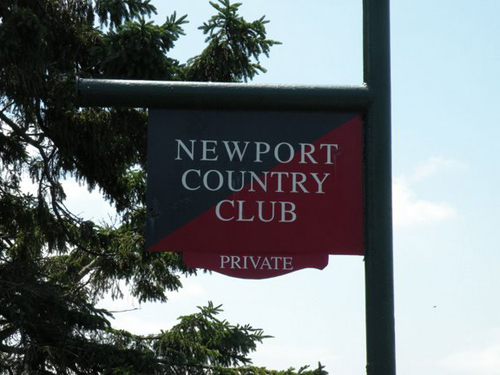 280 Harrison Ave
Newport, RI 02840
401-846-3701
Return from Newport Country Club to Newport Tennis and Golf
Return from Newport Country Club to Newport Discovery Guide home page