Newport Tennis and Golf
Two more reasons to visit the "City by the Sea"
Newport tennis and golf, in addition to the
mansions and the beaches, are major draws to the city.

Tennis Courts
Golf Courses
Tennis/Golf Map

Not only will you find some of Rhode Island's best golf courses in Newport, but we're also proud to be home to the International Tennis Hall of Fame.

In addition to viewing the exhibits and watching tournaments here every summer, you can also play on the grass courts (reservation required).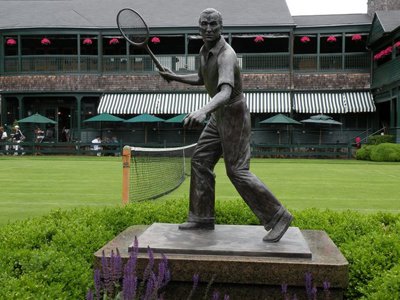 Public Tennis Courts
You can play tennis at the following locations:
International Tennis Hall of Fame (reservation required)
Hunter Park - located on Van Zandt Avenue (corner of Third Street)
Murphy Park - AKA "The Rich" - located on Carroll Avenue (corner of Ruggles Ave.)
Pop Flack Courts - located on King Street (behind the Bellevue Gardens Shopping Plaza)
Rogers High School - located on the back side of the school (Old Fort Road, across from the fire station)
Vernon Park - located on Freeborn Street (off Bliss Road)
Play on grass at the Tennis Hall of Fame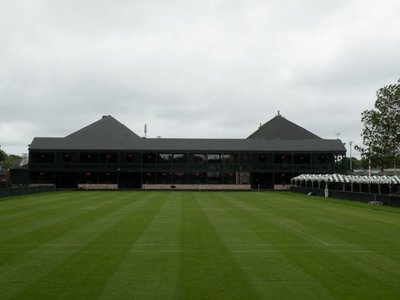 Pop Flack courts behind Newport Library
Frank J. Kenney courts at Murphy Field
---
Golf Courses
Newport Country Club (Private Equity)

18 holes
6,735 yards
Par 70

280 Harrison Ave
Newport, RI 02840-3708
401-846-0461
Newport Country Club was founded in 1893 by John Jacob Astor IV (died aboard the Titanic on April 15, 1912), Theodore Havemeyer, Cornelius Vanderbilt II (summered at The Breakers mansion), Fredrick William Vanderbilt and William Henry Vanderbilt II.
Tiger Woods won the 1995 U.S. Amateur Championship here, and Annika Sorenstam was the victor here at the 2006 U.S. Women's Open.

Don't expect to play here unless you've got some good connections!
Wanumetonomy Golf and Country Club (Private Non-Equity)

18 holes
6,350 yards
Par 70

152 Browns Ln
Middletown, RI 02842-4502
401-847-3420

Newport National Golf Club (Public)

18 holes
7,244 yards
Par 72

324 Mitchells Ln
Middletown, RI 02842-5349
401-846-1489

Green Valley Country Club (Public)

18 holes
6,830 yards
Par 71

371 Union St
Portsmouth, RI 02871-2209
401-849-2162

Carnegie Abbey Club (Private Equity)

18 holes
6,675 yards
Par 71

125 Corys Ln
Portsmouth, RI 02871-1386
401-682-6000

Montaup Country Club (Public)

18 holes
6,236 yards
Par 71

500 Anthony Rd
Portsmouth, RI 02871-4815
401-683-0955
Tennis/Golf Map
Click on any of the placemarks below to find a tennis court or golf course to play at.


View Tennis/Golf Map in a larger map
Return from Newport Tennis and Golf to Things to do in Newport
Return from Newport Tennis and Golf to Newport Discovery Guide home page