Newport Cliff Walk
3.5 miles of history, beauty and adventure
The Newport Cliff Walk is, along with the Newport mansions, among the most popular Newport RI attractions. Once you begin walking the path you'll understand why.

This
National Recreation Trail
, designated as such in 1975, runs for
3.5 miles
along some of the most beautiful coastline in all of New England. Much of it goes through the property on which many of the
Newport mansions
are situated.
Photo courtesy of David Houston
Starting point - Memorial Boulevard and Easton's Beach

Native Advice
Do's and Don'ts
Cliff Walk Map
Cliff Walk Photos


The Newport Cliff Walk is a combination of paved, easy to navigate paths and unpaved rocky areas through which it isn't so easy to traverse. You must be extremely cautious throughout the entire trail! In some spots, the cliffs have drops of over 70 feet.

The beginning (at 1st Beach and Memorial Boulevard-seen below) is the easiest part because it is paved and is the most recently renovated area. The last portion (from Ledge Road to the end at Reject's Beach and Bellevue Avenue) is the toughest to navigate.

If you're in reasonably good shape, you can do the entire thing. It will take you about 2.5 to 3 hours. If not, you can get off at any of the numerous exit points along the way (see map at the bottom of the page).

If you only want to do a portion of it, I would recommend either:

1. Start at the 40 Steps (Narragansett Avenue) and exit at Ruggles or Marine Avenue. This will allow you to see some beautiful coastal views, along with Ochre Court (part of Salve Regina University) and The Breakers mansion.

2. Start at Ruggles or Marine Avenue and exit at Ledge Road. In this section you'll still see the ocean views, but you'll also see Rosecliff, Beechwood, Marble House, the Chinese Tea House and Rough Point (Doris Duke's home).
This is the view from the starting point at Memorial Boulevard and 1st Beach. You can park in the beach parking lot (for a fee) or if you're lucky, you might find a metered spot on the hill just below the entrance to the Cliff Walk.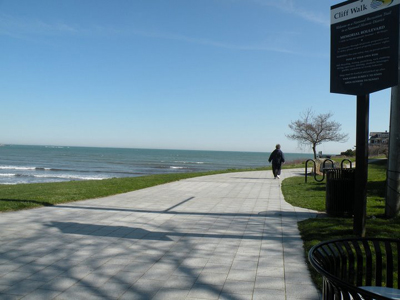 As you start your journey, the luxurious hotel and restaurant, The Chanler at Cliff Walk, will be on your right. If you're looking for Newport Rhode Island hotels with a fantastic view like the one below, then you might want to consider staying there.

As you make your way down the path, the shoreline will become much more rocky, and the cliffs drop off up to 70 feet in some areas. Proceed with caution, but since this is the newest portion with wide walkways and railings, there's nothing to worry about here.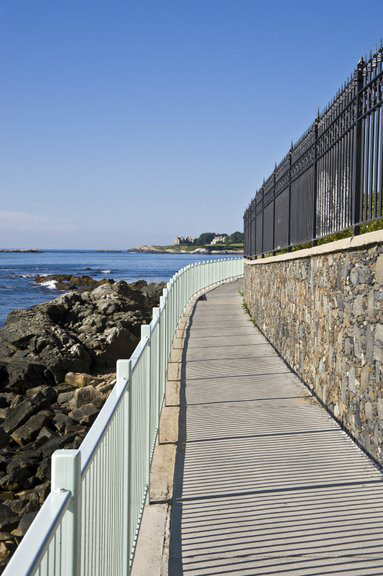 Do
Go for your morning run here...the scenery doesn't get any better than this!
Bring your dog...as long as it's leashed and you clean up after it
Enjoy the northern portion of the Cliff Walk if you're in a wheelchair
Use extreme caution and watch where you're walking
Bring your camera...you can take pictures of anything along the path
Do stop for a break and enjoy the stunning view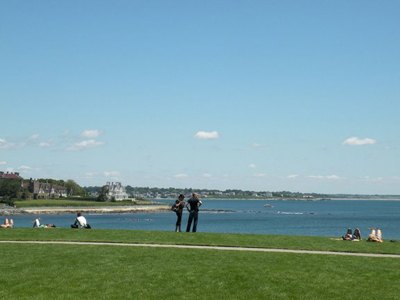 Don't
Bring small children here
Ride your bike or skateboard here
Picnic or dive off the cliffs
Climb the fences at any Newport mansions...you may become lunch for the attack dogs!
Don't leave Newport without seeing this beautiful coastal walkway
The photo below is an aerial shot of the southernmost portion of the Newport Cliff Walk at Ledge Road. From Ruggles Avenue to this spot is the most difficult portion to travel, but it's worth it.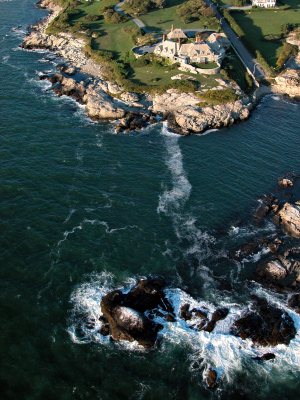 Don't stop now! You've come all this way, and there's only a little bit longer to go. Take a break here if you want, and watch the waves batter the rocks for awhile. Then finish the last leg of the trip to it's end at Bailey's Beach and Bellevue Avenue.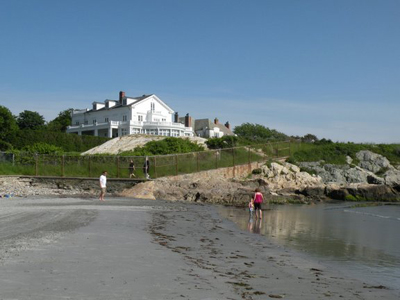 Once you see this, you're at the finish line!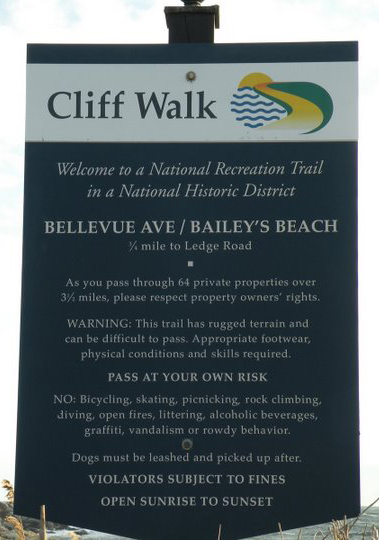 Congratulations! You made it! The good news is that you conquered the entire Newport Cliff Walk. The bad news is that you now have to get all the way back down Bellevue Avenue (4.5 miles if you started at 1st Beach) to your car or to your hotel, wherever that may be.

Relax. Luckily, you can catch the trolley ($1.75 per person) that runs year-round to get back. It will drop you off at 4 locations going down Bellevue Avenue before it ends at the Visitors Center (downtown on America's Cup Avenue).

If you're still full of energy after all that, then rather than catching a ride back down Bellevue Avenue, just keep walking north and stop into a few of the Newport mansions on your way back!
Zoom in and click on any of the placemarks to see the entry/exit points and notable attractions along the way.



View Cliff Walk in a larger map
If you'd like to see more Newport Cliff Walk photos, click here, or on the image below:
---
2010 Photos
Click here to view shots from my 2010 visit
Return from Newport Cliff Walk to Things to Do in Newport

Return from Newport Cliff Walk to Newport Discovery Guide home page


New!

Comments

Have your say about what you just read! Leave me a comment in the box below.