Newport Rhode Island Hotels
Newport Bay Club
The Newport Bay Club is one of the Newport Rhode Island hotels fortunate enough to enjoy
stunning views of Newport Harbor, along with great views of downtown Newport.

Click here for rates and availability
Located right at the intersection of
Thames Street
and America's Cup Avenue, this hotel is literally right
in the middle of all the action
in downtown Newport.
If you're going to visit Newport Rhode Island, this is definitely a
perfect area to stay in
. To the north (America's Cup Avenue), you've got never-ending
unique shops
, fantastic
waterfront restaurants
, and
sailing
from the docks of Newport Harbor.
Newport Bay Club - located right behind "The Wave" statue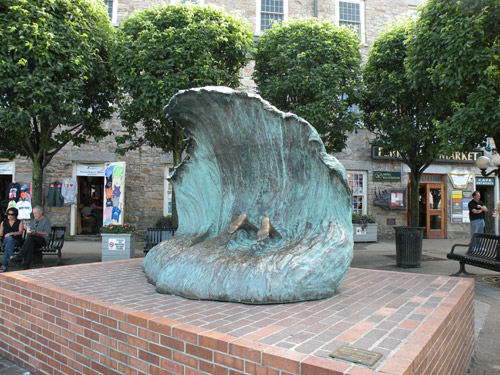 To the south, you still have a multitude of shops and fantastic waterfront restaurants. Continue on a little further, and you'll begin your journey around the breathtaking Ten-mile Ocean Drive, one of New England's most stunning scenic drives.


Perry Mill Market - right downstairs on the ground level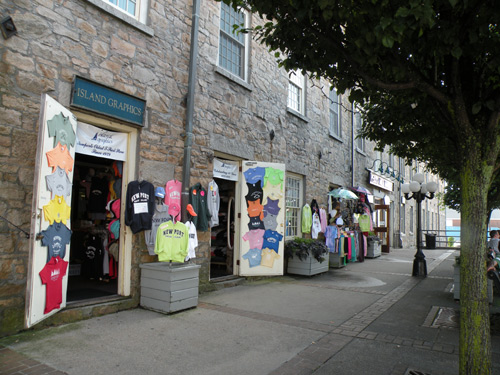 Being a native, I haven't stayed in a lot of Newport Rhode Island hotels. I did stay here though, with a group of friends in one of the townhouses.

It was a very spacious, 2 bedroom suite that was a perfect spot to have a get-together before going out that night. The views were incredible.

The 1st floor had a good size living/dining area, with 2 decks overlooking Newport Harbor and downtown to the north. If you like people-watching, this is the perfect spot to watch the crowds from above.

The bedrooms were on the 2nd level, with a shared bathroom in between that had a jacuzzi. The bedrooms also had their own decks overlooking America's Cup Avenue.


Corner of Thames Street and America's Cup Avenue -
the center of all the action during the summer in Newport
Hotel Amenities
Fitness center - on lower level
Continental Breakfast
DVD rentals
Wireless internet
Complimentary Newspapers
Meeting room - accommodates 15 people
Variety store - on lower level
Click here for rates and availability
Perry Mill Wharf entrance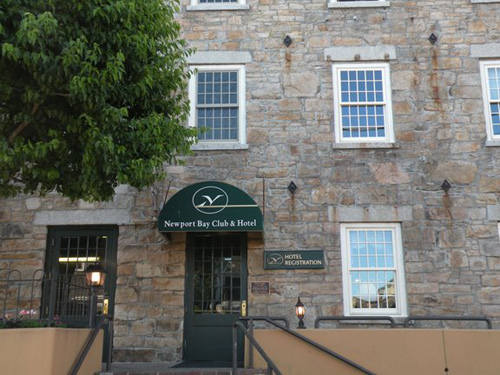 ---
***NATIVE ADVICE***
There's no pool here. They do have a deal where you can buy a pass to the Newport Athletic Club (a few miles away), but there is nowhere to swim on-site.


Noise - If you stay here during the summer, be aware that you're at ground zero when all of Newport's bars close and all the drunks start heading home or on to their next party.

If you're a really light sleeper, or need to be up early for a meeting, you might need to take a sleep aid if staying here.


If your only concern is being in a prime location to access downtown Newport, then it doesn't get any better than this location.
---
What's Nearby
If you stay here, you really are in the middle of everything. Just take a few steps in either direction and enjoy countless Newport RI attractions, shops, bars and restaurants.
The Rhino Bar (right downstairs)
Armory Antiques
Red Parrot bar/restaurant
The Mooring restaurant
Salas' restaurant
Newport Yachting Center
Bannister's Wharf shopping area
Bowen's Wharf shopping area
Gary's Handy Lunch
Via Via Pizza
Bowen's Wharf - great shops and restaurants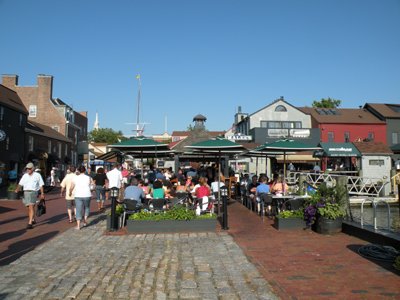 Newport Bay Club
337 Thames Street
Newport, RI 02840
401-849-8600
Click here for rates and availability
Return from Newport Rhode Island Hotels - Newport Bay Club to Newport Rhode Island Hotels
Return from Newport Bay Club to Newport Discovery Guide home page