Newport Rhode Island Hotels
Newport Harbor Hotel and Marina
Many
Newport Rhode Island hotels are blessed to be in great locations with spectacular views. The Newport Harbor Hotel and Marina is no exception.

Located right on Newport Harbor and across from historic Queen Anne Square, you'll be right in the middle of all the action when you stay here.

Click here for rates and availability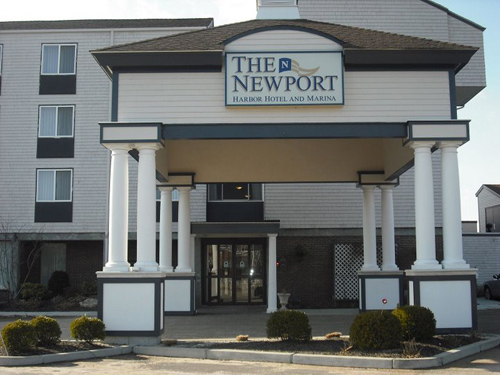 You'll be just steps away from the docks on Newport Harbor, the shops on Bowen's Wharf and Thames Street, and some of the best Newport Rhode Island restaurants.

If you want to sail Newport Harbor and Narragansett Bay, this is where you want to be.
Although this isn't one of the 5-Star Newport Rhode Island hotels, the location alone makes this one of the best places to stay in Newport.

There are 133 rooms, all of which have either king or 2 double beds. You can get a room with a harbor view (which is amazing) or a city view, overlooking America's Cup Avenue and Queen Anne Square.


Click here for rates and availability
Other amenities:
Large indoor pool
Men's and Ladies' saunas
Sundeck overlooking Newport Harbor (perfect spot to enjoy the sunset)
Kimono robes
Newport Harbor - Click image to enlarge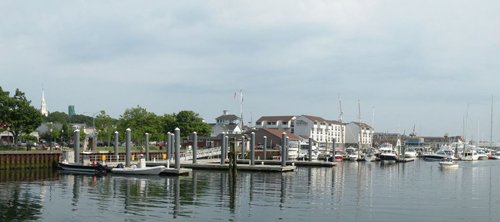 You won't need a car, as you can walk just about everywhere. If you decide to use one, you'll have to pay $15 per night to park in the parking lot during the summer season.

If you want to tour the Newport Mansions, see the famous Newport Cliff Walk or relax on the Newport RI beaches, you can take a cab or catch a trolley.
There is also a restaurant here, called Pier 49. You have the choice of dining on the outdoor patio overlooking the harbor or inside in the dining room. This is a great spot to enjoy the sunset.

This restaurant specializes in seafood, but has some great steaks as well. There is also a bar and live music here.
What's Nearby
This is one of the best
Newport RI hotels
to stay in if you want to be close to the
lively bars
,
waterfront restaurants
,
unique shops
and beautiful waterfront.
Click here for rates and availability
Newport Harbor Hotel and Marina
49 America's Cup Avenue
Newport, RI 02840
800-955-2558
Return from Newport Harbor Hotel to Newport Rhode Island Hotels
Return from Newport Harbor Hotel to Newport Discovery Guide home page