Newport RI Weather
Be prepared for your visit to the "City by the Sea"
If you ask my opinion, Newport RI weather is
amazing during the spring and summer, and brutal during the winter (Yes, that's one of the reasons I moved to Florida!).

The fall isn't too bad. It's nice to watch the leaves on the trees changing colors and go for a brisk walk around town.

But no matter the weather or the season, Newport is beautiful year-round, and there are always many great things to see or do here.


Newport Weather Forecast, RI (02840)
Spring
Ahhh.....finally, it's warm out again!

For many, Spring is the best season in Newport. After the frigid Winter, you can finally enjoy being outdoors again. Walks around the city are much more pleasant, and some even begin their sailing season a little early.


Shoppers out on Bannister's Wharf on a beautiful Spring day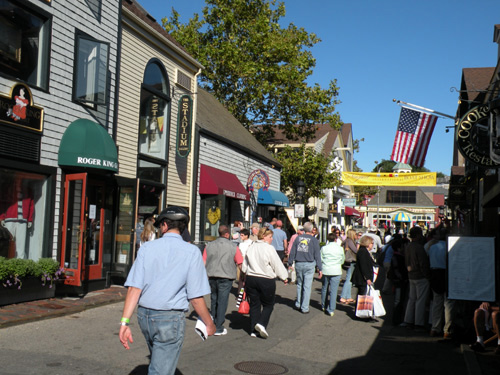 Newport's population hasn't tripled with summer residents and tourists yet, so this a great time to enjoy the city's restaurants, shops and attractions during the comfortable Spring weather.

Expect high temperatures from the mid 50's to mid 60's and low temperatures from about 40 to 50 degrees.
---
Summer
The Summer is obviously a great time to be in Newport as well. The weather is great, with average high temps between 70 and 80 degrees most days, and average lows of about 60.


Cruise ship passing Fort Adams into Newport Harbor
Newport RI weather is usually best for weddings during the summer. For anyone considering an outdoor wedding ceremony or reception, July is usually the driest month of the year.


Summer nap time in Newport Harbor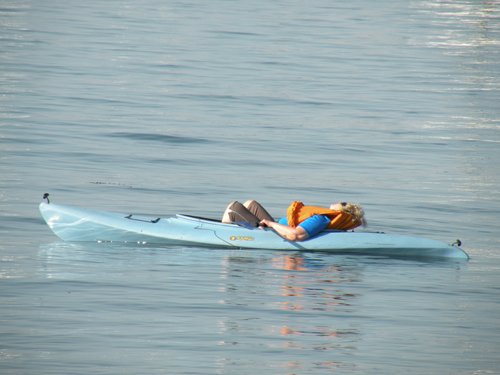 ---
Fall
If you love the changing seasons, you'll love Fall in Newport. Yes, the temperature drops and you have to bundle up a little, but it's so beautiful, and also a nice change from the warm Summer months.

You can expect average Fall high temps in the mid 60's and lows of about 50 degrees. Not shorts and t-shirt weather, but it's still very nice.


Exactly how you'd picture a sunny, Fall day in New England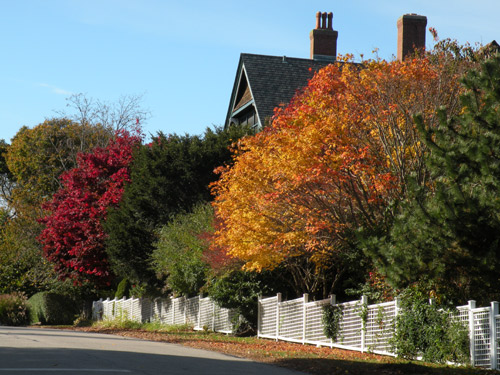 If you like being outdoors during this season, Fall is still a great time to go for walks and bike rides. If you have dogs, this is a great time for them since it's not so hot, and you can take them for walks on the public beaches now, which I'm sure they love.


Corner of Bellevue and Victoria Avenues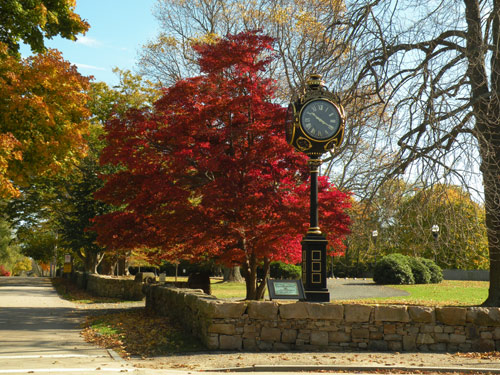 ---
Winter
OK, I'll admit it. Winter can be beautiful in Newport, especially when you see the Newport mansions decorated for the holidays, or we get snow for a white Christmas.


- summer home of William K. Vanderbilt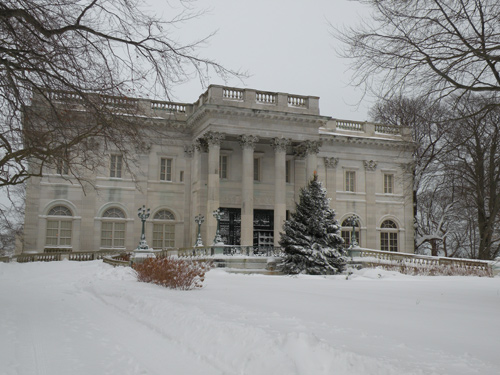 But I'm not going to lie to you.....It's
COLD
during the winter months!
Although there is still plenty to
see and do
in Newport, even during the winter, you can expect
average high temps of about 40 degrees
and average lows of about 25 degrees.
While Winter is obviously not the best time to visit Newport, there are some
advantages
to coming at this time of year. You'll find the
best rates of the year
on
lodging
and
restaurants
, and it's nice to be able to get around town without fighting the crowds and other tourists driving down
Thames Street
at 5 miles per hour!
Blizzard of 2009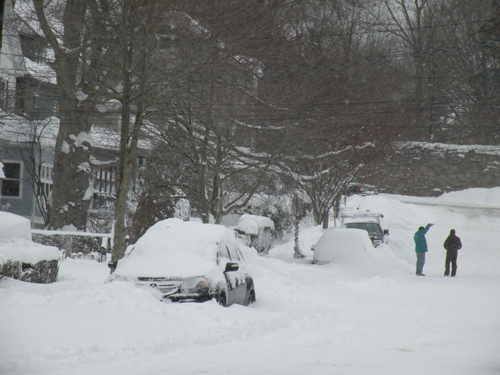 To sum it all up: Newport RI weather is great for half of the year (Spring and Summer), pretty nice for 1/4 of the year (Fall) and not so nice for the other 1/4 (Winter).

But no matter when you come, you'll still enjoy yourself in this historic, beautiful city. So what are you waiting for? Pick a date, and come see for yourself!

Return from Newport RI Weather to About Newport

Return from Newport RI Weather to Newport Discovery Guide home page