Hotel Viking
80 Years of Excellence
Hotel Viking
One Bellevue Avenue
Newport, RI 02840
800-556-7126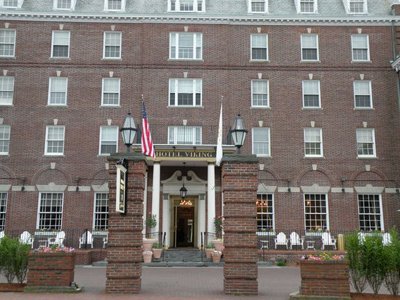 Rooms
Guest Services/Amenities
What's Nearby
Contact

The historic and award-winning Viking Hotel has been welcoming guests such as President Kennedy, Ella Fitzgerald, the Astors and the Vanderbilts since 1926. It even welcomed my family in 2000, when my cousin held her wedding reception there! If you're looking for a location to hold an event, we highly recommend one of the best Newport Rhode Island hotels, the Hotel Viking.


This great location offers all the amenities you would expect from a luxurious spa hotel. Enjoy fine dining at their restaurant, One Bellevue, relaxation at the hotel's Spa Terre or take advantage of the Viking's fitness center, meeting and wedding banquet facilities.

And if you cannot bring yourself to leave your pet at home, bring him or her as well! The Viking now welcomes pets in it's Newport wing. They even provide complimentary dog biscuits!
The Viking's prime location at the top of Newport's Historic Hill puts you right where you want to be. The Newport Mansions, Newport's best restaurants, Easton's Beach, sailing in Newport Harbor and shopping on Thames Street are just blocks away!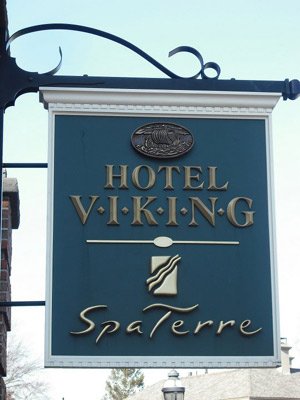 Rooms
Click here for rates and availability

After it's completed renovation in 2007, The Viking Hotel now has over 200 luxurious guest rooms and suites. Each renovated room contains period furniture depending on the room. Custom English wool carpets and the finest tapestries are present in each, as are:
King beds
Flat screen LCD televisions
Built-in cherry wardrobes
Marble showers with rainhead showerheads
Gourmet honor baskets
Irons/ironing boards
In Room Safes
Web TV
Movie Rental
Mansion Suites
If you're going to be staying on Bellevue Avenue, you might as well get a feel for what it was like to live like an Astor or a Vanderbilt in the Gilded Age in Newport. The Viking's mansion suites re-create those times with suites such as "Chateau", "Rosecliff" and "Marble House".
These amazing suites feature:
Separate and unique parlor seating areas
Wood flooring
Oriental carpets
Marble bathrooms
Tiled glass showers
Books and photos of the families who lived in that home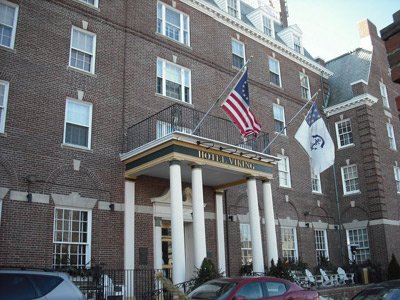 Guest Services/Amenities
Complimentary High-speed Internet
24-hour Business Center
Complimentary Fitness Center
Indoor Swimming Pool
Onsite SpaTerre
Room Service
Dry Cleaning Services
Pack N Plays Available
Roll Away Beds Available
Refrigerators Available
Audio Visual Services
Transportation Services
Safety Deposit Boxes
Express Check Out
Pet Policy
The Viking is extremely pet friendly. They not only treat your dog to complimentary biscuits that can be replenished at the front desk, but they even have Canine Room Service available daily from 7am to 10pm! Not many other Newport RI hotels offer such service to pets.
Read their Pet Policy upon arrival, but here some highlights:
You must inform them in advance
There is a $75 (non-refundable) pet fee
Acceptable cat or dog size is 75 pounds or less
All pets must be crated if left unattended in guest rooms
Rates
Click here for rates and availability

Room rates can vary depending on the season and what events are going on in Newport at the time.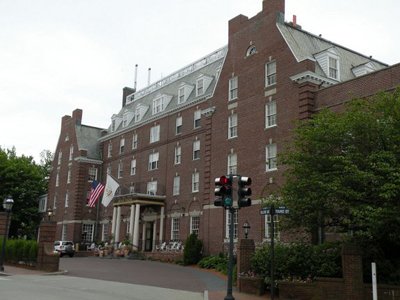 You'll find rates as low as $150 per night during the winter and as high as $600 per night during the summer. So it's best to make your reservations sooner rather than later.

Click here for rates and availability
What's Nearby
Trinity Church
La Forge Restaurant
Touro Synagogue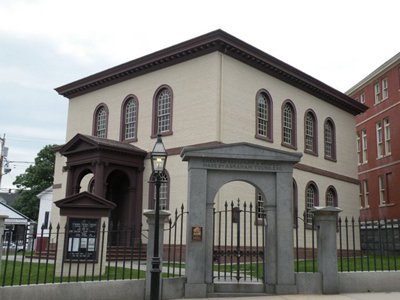 The Hotel Viking
One Bellevue Avenue
Newport, RI 02840
800-556-7126
Click here for rates and availability
Return from Hotel Viking to Newport Rhode Island Hotels

Return from Hotel Viking to Newport Discovery Guide home page