Personal Fitness in Newport Rhode Island
Enjoy the beauty of the "City by the Sea" while you work out
I get it. If you're into personal fitness,
it's important to maintain some form of workout regimen, even on vacation.
Since you'll surely be indulging yourself at our amazing Newport Rhode Island restaurants, you're going to have to find a way to burn some of those calories, right?

Lucky for you, Newport has a variety of options when it comes to personal fitness. I suppose you could stay indoors and workout at your hotel's gym, but what fun is that?

I recommend that you get out and about, and try one of the following:

Personal Trainer
Walk/Run
Bike Ride
Swim
Outdoor Sports
Local Athletic Clubs


Personal Trainer
Working with a personal fitness trainer is a great way to get the most out of your limited time to work out during your vacation. A trainer can give you the proper direction and motivation, and make your workout fun as well.
T3 Fitness, Newport's only private fitness studio and 24 hour facility, is a great place to hook up with experienced and creative personal trainers.

The owner, Brian Rurak, has over 20 years of health and fitness experience. He specializes in creating personalized workouts that challenge you while meeting your individual needs.
Conveniently located on historic Broadway (across from Dunkin Donuts), T3 Fitness offers both privacy and a great staff that'll ensure you have a productive workout.

More about T3 Fitness
---
Walk/Run
If you like to run or go for walks, Newport is full of scenic and historic locations for you to see while you get your exercise in. Rather than running on your hotel's treadmill, get out and enjoy the ocean breezes while you work out.


Newport Cliff Walk - great spot for a walk or run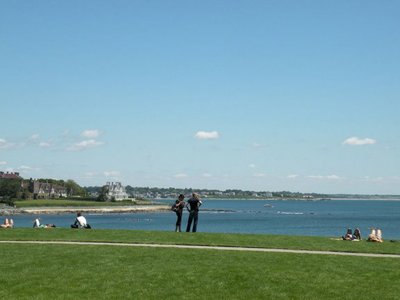 Here are some of the best spots and what you'll see there:
---
Bike Ride
Newport only has an area of 11.5 square miles, so if you like to bike ride, you can see much of the "City by the Sea" that way.

Although you can ride pretty much anywhere you like, you might want to avoid the downtown area on a bike. During the summer season there are just so many people walking, driving, roller-blading and skateboarding that it's not the safest thing to do.


Ocean Drive - the best spot for a bike ride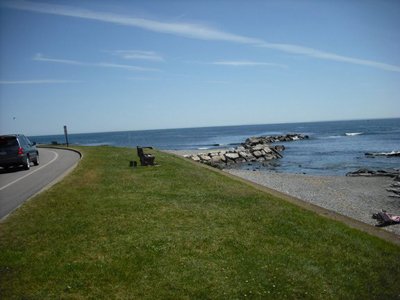 If you're looking for the perfect place to go for a bike ride, try the 10 mile Ocean Drive. Located along the southern tip of Aquidneck Island, this 10 miles will be one of the most beautiful bike rides you've ever been on.

Just some of the many attractions you'll encounter as you bike around the Ocean Drive:
King Park (with its statue of General Rochambeau, who arrived here in 1780 and helped us fight the British)
Ida Lewis Yacht Club
New York Yacht Club
Hammersmith Farm (President Kennedy's wedding reception was held here in 1953)
U.S. Coast Guard Station
Brenton Point State Park
---
Swim
If your personal fitness routine involves swimming, then you're in the perfect city. Newport RI beaches are ideal locations to go for a quick dip, or a long swim.


Calm waters at Gooseberry Beach
If you'd rather swim in a pool, check out one of the local athletic clubs below.

See the Newport Rhode Island Beaches map to choose where you want to go.
---
Outdoor Sports
If you're looking to play some outdoor sports, Newport has a variety of options here as well.

You can play tennis at the following locations:
International Tennis Hall of Fame (reservation necessary)
Hunter Park - located on Van Zandt Avenue (corner of Third Street)
Murphy Park - AKA "The Rich" - located on Carroll Avenue (corner of Ruggles Ave.)
Pop Flack Courts - located on King Street (behind the Bellevue Gardens Shopping Plaza)
Rogers High School - located on the back side of the school (Old Fort Road, across from the fire station)
Vernon Park - located on Freeborn Street (off Bliss Road)
Play on grass at the Tennis Hall of Fame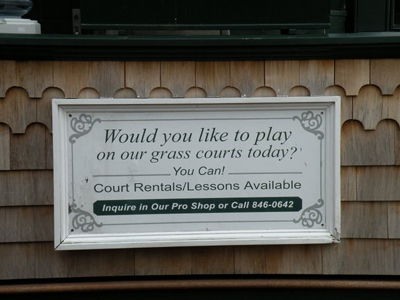 You can play basketball at the following parks:
"The Rich" - located on Carroll Avenue (corner of Ruggles Ave.)
Braga Park - located on Ellery Road off Eustis Avenue near Big Pond
Storer Park - just across from the Goat Island causeway
Basketball court at Murphy Field, aka "The Rich"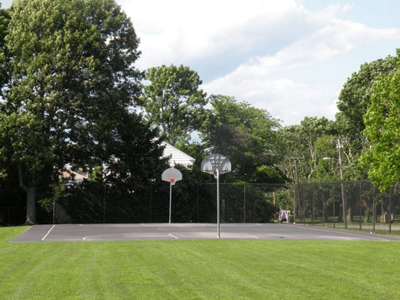 ---
Local Athletic Clubs
If you're seeking a full-fledged fitness center to meet your needs, you can go to the Newport Athletic Club or the Newport County YMCA.

These 2 locations are actually just over the border, in neighboring Middletown. They're both only about a 10 minute drive from most locations in Newport.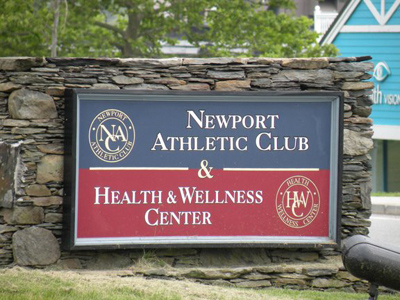 Newport Athletic Club
66 Valley Road, Middletown RI
401-846-7723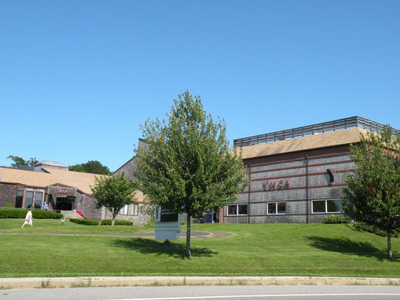 Newport County YMCA
792 Valley Road, Middletown RI
401-847-9200
I admire your desire to
maintain your personal fitness
, even while on vacation. It's not easy with all the amazing
Newport Rhode Island restaurants
tempting you everywhere you turn!
I'm sure you'll find a balance, and enjoy every aspect of your visit.
Good luck!
Return from Personal Fitness to Things to do in Newport

Return from Personal Fitness to Newport Discovery Guide home page